Yeti - Battle Of Greenhat Peak
A Yeti - Battle Of Greenhat Peak játékgép ahogy a neve is mutatja, a nagy fehér szőrös lény köré épül fel. Az 5 tárcsás felületen 11 nyerővonalra kell azonos szimbólumokat kiforgatni, a kifizetés eléréséhez. Remek grafika, gyümölcsök, gazdák és a jeti vár ránk, nagy nyeremények lehetőségével!
Játék menete
Az egyes zsetonra kattintva állíthatjuk be a tétet, amit egy kör során kockáztatunk. Előre meghatározott összegek listájából választhatunk, tetszés szerint. A játék indítása ezután a környíllal történik, ami a jobb alsó sarokban van. Emellett az automata mód is elérhető, az általunk választott játékkör fut le, a mi aktív részvételünk nélkül.
Wild és scatter
A wild szimbólum minden mást helyettesít, kivéve a scattert. Három vagy több scatter elindítja az ingyenes pörgetésekből álló bónusz játékot. A bónuszjátékban a tárcsákon megjelenő bónusz jelképek összegyűlnek és megtöltik a Wild Attack mérőt, további ingyenes pörgetéseket adva.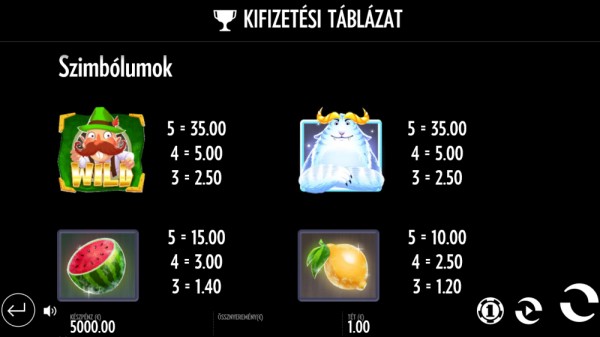 ---
A következő kaszinóknál elérhető a Yeti - Battle Of Greenhat Peak