The Twisted Circus
Egyedi cirkuszi világba kerülünk a The Twisted Circus játékgépben, melynél nem nyerővonalak vannak, hanem nyerési módok. Ezekből összesen 243 van, tehát van bőven lehetőségünk azonos szimbólumok kiforgatására, melyeknek a baloldali tárcsától kell kezdődniük.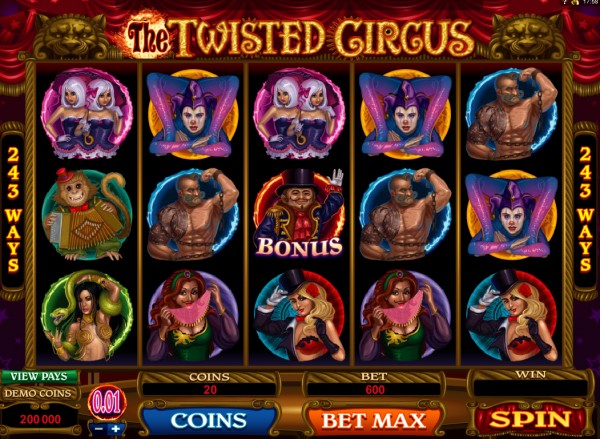 Játék menete
Lehet módosítani az érme értékét és az érmék mennyiségét is. Ennek a kettőnek a szorzata adja meg a teljes tétet, amit egy forgatás során felteszünk. A tét megadása után a forgatás van már csak hátra, amit a Spinre kattintva lehet megtenni. A Bet max is elindítja a tárcsák forgását, az éppen aktuális érme érték mellett, maximális számú érmével.
Wild és társai
A Twisted Circus felirat a wild a játékban, tehát ami minden mást helyettesít, kivéve a speciális társait, amiből kettő is van. Egyrészt a Bonus felirat extra nyereményhez segíthet, míg másrészt ott van a scatter, ami szintén plusz kifizetést, és ingyenes, tehát tét nélküli köröket ad a játékosoknak.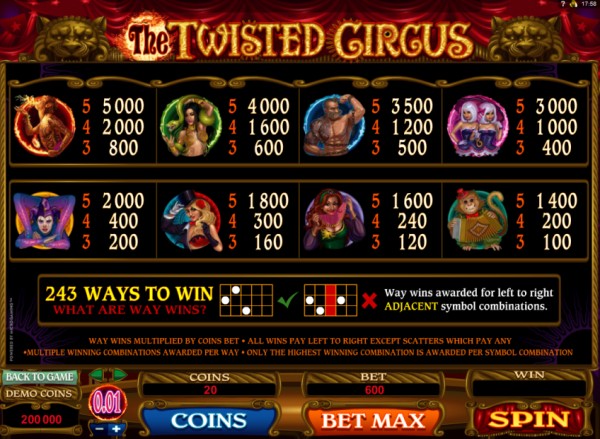 ---
A következő kaszinóknál elérhető a The Twisted Circus