Holmes and the Stolen Stones
Egy 20 soros nyerőgép, mely teljesen magyar nyelvű felülettel és súgóval rendelkezik. Feladatunk, mint minden más ilyen játéknál, hogy azonos szimbólumokat pörgessünk ki a nyerővonalakra, a baloldali tárcsától kezdődően. Három vagy több egyforma esetén nyertünk, de a speciális karaktereknek köszönhetően bővül a nyerési lehetőség!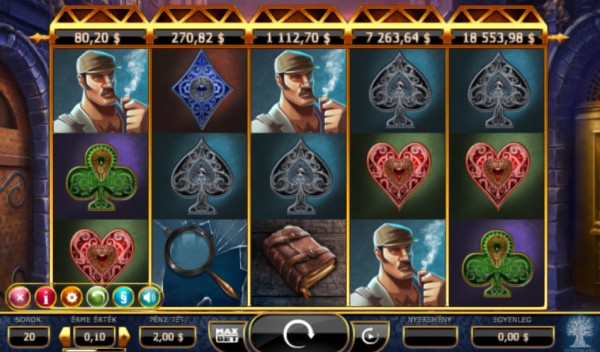 Játék menete
A nyerővonalak száma fix, ezen nem lehet változtatni, tehát mindig 20 vonal aktív. A tétek megadása viszont már a mi a feladatunk. Minden sorra egy-egy érme kerül, tehát összesen 20 érmével játszunk egy pörgetés során. Az érme éréke módosítható. Ha például 10 centes sortéttel játszunk, akkor egy pörgetés 2 dollár lesz. Lehetőség van a Max betre is kattintani, ekkor a játék automatikusan elindul maximális téttel. A környílra klikkelve lehet megpörgetni a tárcsákat, a mellette lévő gomb pedig az automata mód.
Bónusz játék
Három vagy több Bónusz szimbólum elindítja a Bónuszjátékot. Ez egy extra játék, melyben egy zsák érmét, vagy a gyémántok hiányzó szilánkjait találod. Akkor lesz vége, ha füstbombát találsz elrejtve valamely ládában. A befejezésekor a megtalált szilánkok átkerülnek a főjátékban.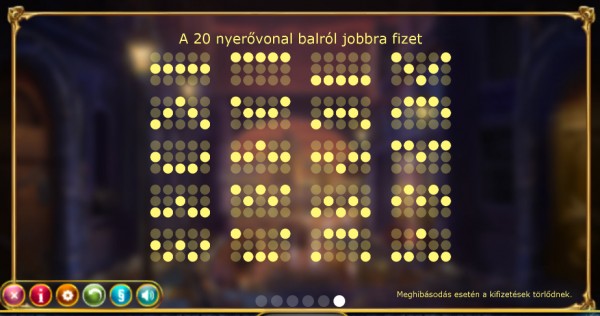 ---
A következő kaszinóknál elérhető a Holmes and the Stolen Stones