The Jazz Club
A The Jazz Club egy 25 vonalas nyerőgép, mely az 5 tárcsán található szimbólumokkal egy jazz club világát tárja elénk. Láthatunk hangjegyeket, csellistát vagy épp mikrofonokat, melyekből egyformákat kell kipörgetni a nyerővonalakra. Minden nyerő kombinációt megtekinthetünk a kifizetési táblázatban, amely azt mutatja meg, hogy a sortétet, mekkora szorzóval többszörözik kifizetésnél.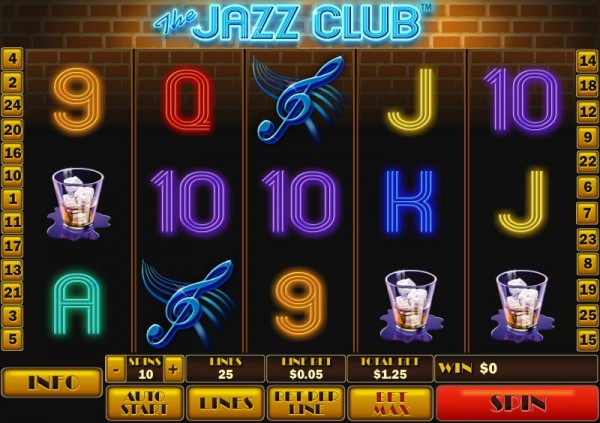 Játék menete
A Lines gombbal állítjuk be a nyerővonalak számát, mely tehát 1-től 25-ig változtatható. Mellette a Bet per line a nyerővonalakra feltett pénzt jelenti. A Bet Maxra kattintva maximális vonallal elindul a játék és fontos megjegyezni, hogy automatikusan, kérdés nélkül! Amennyiben megvagyunk a tét beállításával és nem használtuk a Bet Maxot, akkor a Spinre klikkelve indulhat a pörgetés. Az átlagos szimbólumokból három egyformára van szükség, míg a speciálisakból már kettő is elegendő az extra nyereményekhez.
Kifizetési táblázat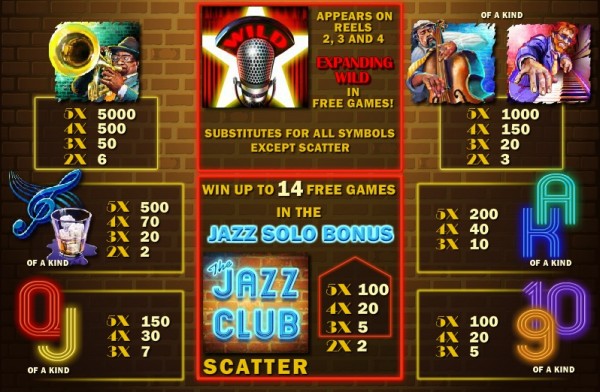 Wild és szórás szimbólum
A wild ennél a játéknál egy mikrofon, ami csak a kettes, hármas és négyes tárcsán jelenik meg. Bármely másik szimbólumot képes helyettesíteni, kivéve a szórást, így kialakítva nyerő kombinációkat. Külön nem fizetnek. A szórást a Jazz Club felirat jelképezi, amiből minimum kettőt szerezve, a kifizetési táblázatban szereplő szorzót kapjuk utána. Amennyiben hármat, vagy annál többet forgatunk ki belőle, akkor ingyenes pörgetéseket lehet szerezni.
Nyerővonalak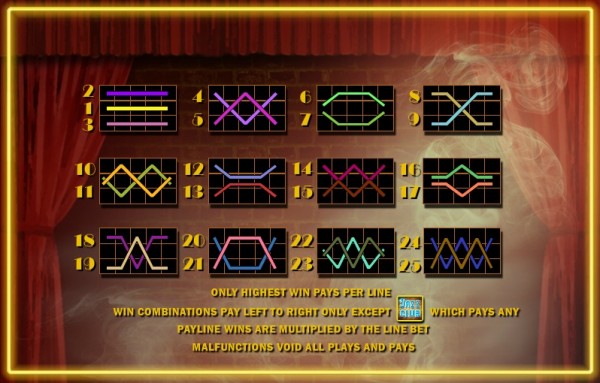 ---
A következő kaszinóknál elérhető a The Jazz Club