Fortunes of Ali Baba
Egy olyan játékgép a Fortunes of Ali Baba, melynek 5 forgó tárcsája és 3 sora van, így épül fel a látható játékmező. Itt vannak a nyerővonalak, összesen 20 darab, és ezekre kell azonos szimbólumokat kiforgatni a nyeremény eléréséhez. Ha ez megvan, akkor a kifizetési táblázat szerint alakul a nyeremény.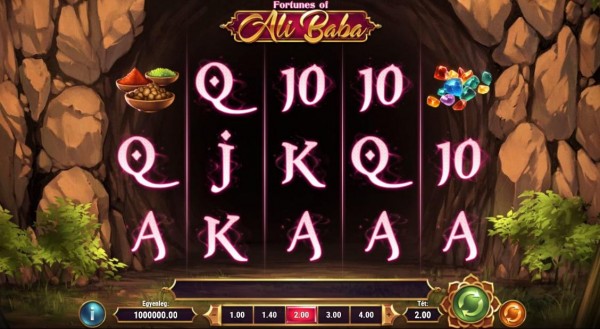 Játék menete
A tárcsák alatti sávban vannak a választható tétek, amik között vannak centes nagyságrendűek és eurós összegek is. Olyan pénzmennyiséget válasszunk, mely az egyenlegünk mértékben megfelelő nagyságú. Ha ez megvan, akkor a zöld környíllal tudjuk elindítani a tárcsák forgását, annak reményében, hogy a nyerővonalak valamelyikére egyforma szimbólumokat kapunk.
Tolvajok tanyája
A scatter szimbólum egy fátyolban lévő hölgy, aki az első és utolsó tárcsán jelenik meg. Aktiválja a Tolvajok tanyája bónuszt, ami egy mellékjáték a pörgetések során. Három váza jelenik meg, ezek közül kell választani egyet az azonnali nyereményért és az ingyenes pörgetésekért.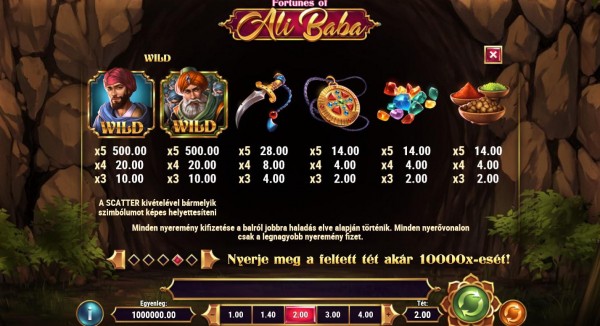 ---
A következő kaszinóknál elérhető a Fortunes of Ali Baba