Pride and Prey
A szavannákra juthatsz el a Pride and Prey nyerőgéppel, aminél azonos szimbólumok gyűjtése a cél. Amennyiben legalább hármat kapunk valamelyik alakzatból, akkor a kifizetési táblázat szerint szorzódik fel a tétünk. Összesen 20 nyerősorra kell azonos szimbólumokat kiforgatni, melyek száma nem módosítható, viszont ezen kívül szinte minden személyre szabható.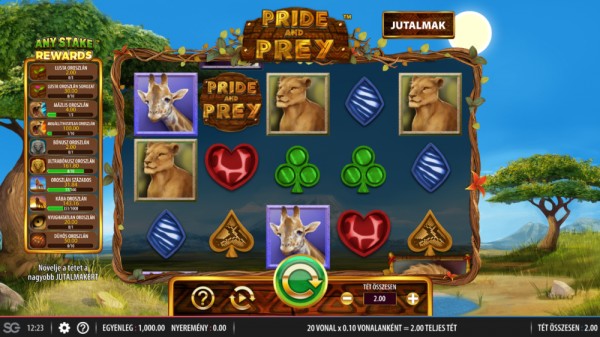 Játék menete
Érdemes a tét beállításával kezdeni, amit a tét összesen részen tehetünk meg a plusz és mínusz gombok segítségével. A centes tétektől egészen az eurós nagyságrendig el lehet jutni, érdemes jól átgondolni a tét méretezését. A játék indítása a középső nagy környíllal történik. Szerencsére a játék felülete mellett, a teljes leírás magyar nyelvű, így minden felmerülő problémára megoldást találhatunk.
Jutalmak
A játékban többéle jutalom is elérhető, a vadászat során. Ilyen például a Kába oroszlán, 1000 alapjáték után érdemeljük ki. Ezzel a nyereményhez hozzájáruló tétek átlagát 20-as szorzóval lehet megnyerni. Az ultrabónusz oroszlán is ilyen jutalom, ami szintén a tétek átlagát növeli, csak 10 ingyenes pörgetés után.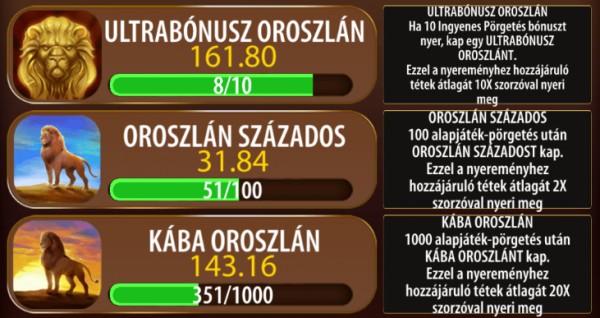 ---
A következő kaszinóknál elérhető a Pride and Prey