The Invisible Man
Tudományos világot tár elénk a The Invisible Man nyerőgép, ahol azzal kísérleteznek, hogy láthatatlanságot hozzanak létre! A játék 20 nyerővonalas, melyek száma nem módosítható. Célunk az, hogy ezekre forgassunk ki azonos szimbólumokat, a baloldali tárcsától kezdődően. Tovább növelik az izgalmakat az extra funkciók!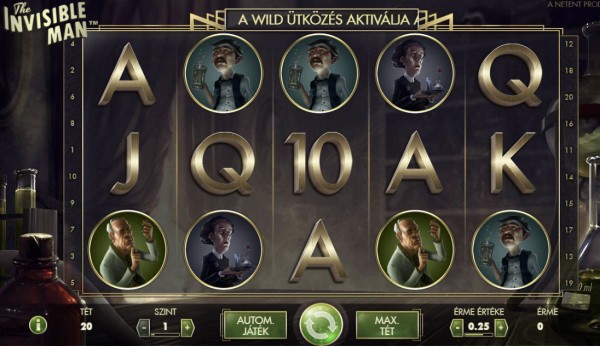 Játék menete
A nyerővonalak száma nem módosítható, mindig 20 aktívval játszunk. A tét beállításához két dologgal kell foglalkoznunk: Szint és Érme értéke. Összesen 10 szint érhető el, minden egyes szinten egy-egy érmét teszünk az egyes sorokra. Például a 10-es szinten minden egyes nyerővonalon 10 érménk van, összesen tehát 200 érmével játszunk egy pörgetés során. Az Érme értéke 1 centtől 1 dollárig módosítható a plusz és mínusz gombok segítségével.
Automata játék és Max tét
A játékban található 5 tárcsa automata módon is elindítható. Az Automata játéknál megadhatjuk, hogy mennyi forgatás menjen le a beállított tétszint mellett, illetve olyan extra lehetőségek is vannak, mint például hogy mekkora nyeremény esetén álljon le a tárcsák automatikus forgatása. A Max. tét is elindítja a tárcsákat, de ezzel érdemes vigyázni, mert az éppen aktuális érmeérték mellett, maximális tétszintet aktiválva kezdi meg a játékot.
Nyerővonalak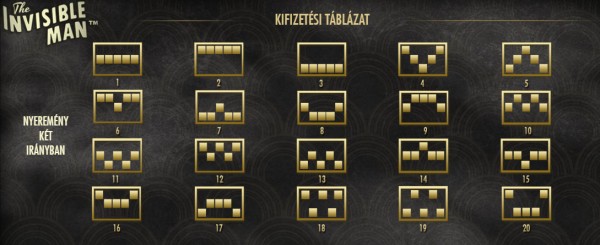 Ingyen játék
Próbáld ki a játékot ingyen, regisztráció, illetve befizetés nélkül. Amennyiben tetszik a játék, akkor kipróbálhatod valós tétért is a cikk végén található kaszinóteremnél/kaszinótermek egyikénél.
---
A következő kaszinóknál elérhető a The Invisible Man