Rich Wilde and the Aztec Idols
A Rich Wilde and the Aztec Idols nyerőgépben azonos szimbólumokat kell kiforgatni a 15 nyerővonal valamelyikére. Amikor ez megtörténik, akkor a kifizetési táblázat szerint alakul a nyeremény. A dolgunkat magyar nyelvű felület és információs rész segíti, így mindent megtudhatunk a játékgép működéséről.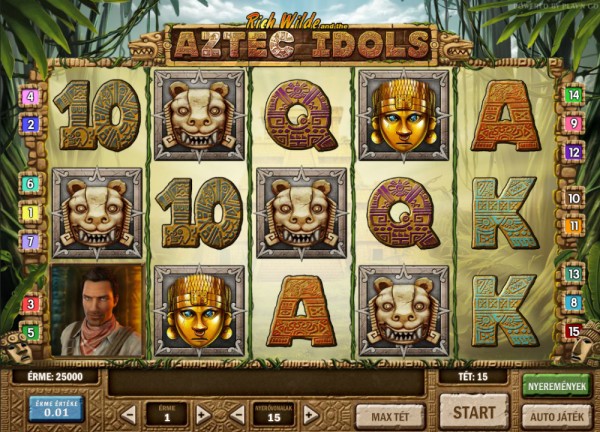 Játék menete
A nyerővonalak számának meghatározása mellett, a tét beállítását is érdemes megtenni a forgatás előtt. Összesen 15 vonalat aktiválhatunk, de akár egyetlen nyerősorral is elindíthatjuk a játékot. A tét kiválasztása az Érme számának és Érme értékének együtteséből adódik össze. A játék a Start gombbal indítható.
Speciális szimbólum
A joker szimbólum minden más szimbólumot helyettesít, kivéve a bónuszt, a free spint és a scattert. Három szimbólum aktiválja a bónuszjátékot. A free spin tét nélküli köröket aktívál. A speciális szimbólumokról részletesen az információs részen olvashatunk.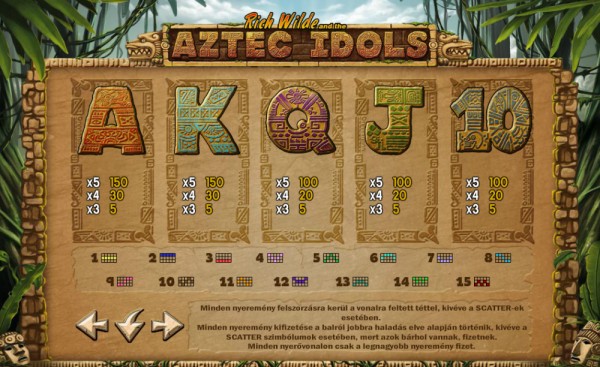 ---
A következő kaszinóknál elérhető a Rich Wilde and the Aztec Idols