Piggies and the Wolf
A Piggies and the Wolf egy 50 vonalas és 5 tárcsás nyerőgép, melynél azonos szimbólumok kiforgatása a cél. Minden nyerő kombinációknak meghatározott szorzója van, melyek a kifizetési táblázatban szerepelnek. Vannak speciális karakterek is, amik ingyenes pörgetéseket és extra nyereményeket eredményeznek.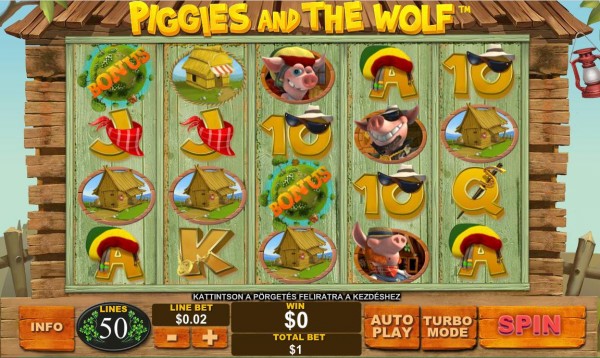 Játék menete
Ennél a nyerőgépnél a vonalak száma (Lines) nem változtatható, tehát mindig 50 nyerővonal van. Mellette a Line bet a vonalankénti tétet jelenti, amit a plusz/mínusz gombokkal tudunk módosítani. Ezután nincs más dolgunk, mint a tárcsák pörgését elindítani, a Spinre klikkelve. Lehetőség van automata játékmódra, amikor meghatározott számú (10, 25, 50 és 99) pörgetés történik.
Kifizetési táblázat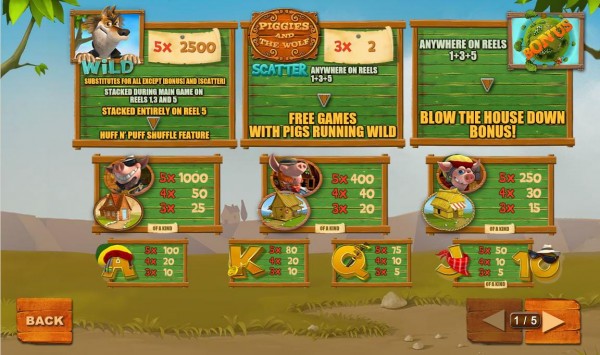 Wild és szórás szimbólum
A wild ennél a játéknál egy farkas, ami minden más szimbólumot helyettesít, kivéve a speciálisakat, így létrehozva nyerő kombinációkat. Nem csak jokerként működik, ha egy nyerővonalon öt egyforma lesz belőle, akkor 2500-szoros szorzót ad. A szórást a Piggies and the Wolf felirat jelképezi és csak az első, harmadik és ötödik tárcsán jelenhet meg. Nem kell nyerővonalon lenniük ahhoz, hogy az ingyenes pörgetéseket aktiválják.
Bónusz szimbólum
Van még egy speciális szimbólum, a Bonus felirat. Ez is csak az első, harmadik és ötödik tárcsán szerepel. Amikor mindhármon lesz egy, akkor a Blow the house down játék indul el. A mellékjáték során a farkasnak kell segíteni abban, hogy az teljesen elfújhassa a három malac házát és így extra nyereményt zsebelhessünk be.
Nyerővonalak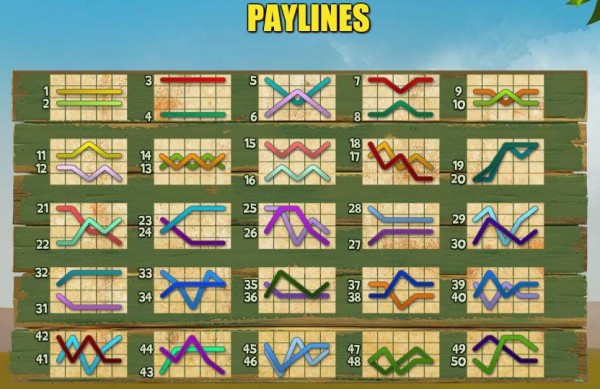 ---
A következő kaszinóknál elérhető a Piggies and the Wolf