The Wild 3
Vadnyugati hangulat tárul elénk a The Wild 3 nyerőgépnek köszönhetően, melynél 5 forgó tárcsán vannak szimbólumok, melyekből egyformákat kell kiforgatni a 10 nyerővonal valamelyikére. Ez a 10 vonal az információs részen megtekinthető, ami magyar nyelven olvasható, ahogy a felületen található szövegek is magyarul jelennek meg.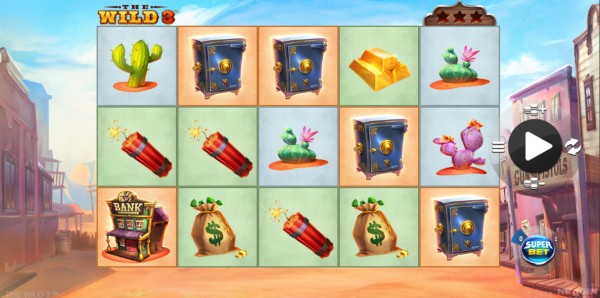 Játék menete
A kezelő gombokat a tárcsák mellett jobbra találjuk, lényegében minden ott van. Érdemes a tét beállításával kezdeni, amit a zsetonkupacok segítségével tehetünk meg. A tét fel és tét le lehetőséggel szabhatunk meg akkor a pénzösszeget, amit egyetlen pörgetés során kockáztatni kívánunk. A bónuszt forgatóknak, vagy épp a nagy tételben játszóknak jó hír, hogy van automata mód, melynél a tárcsák önmaguktól forognak, a megadott mennyiségű játékkör végéig.
Speciális szimbólumok
Ahogy manapság minden online játékgép esetében, úgy itt is vannak speciális szimbólumok, amik egyedi tulajdonságukkal növelhetik a nyeremény nagyságát. A scatter az egyik ilyen jel, ami extra szorzót ad a pörgetés végén elért összeghez, míg a másik a wild. Ez minden más szimbólumot helyettesít, kivéve speciális társát. Mindig a legmagasabb kifizetéssel járó kombináció része lesz.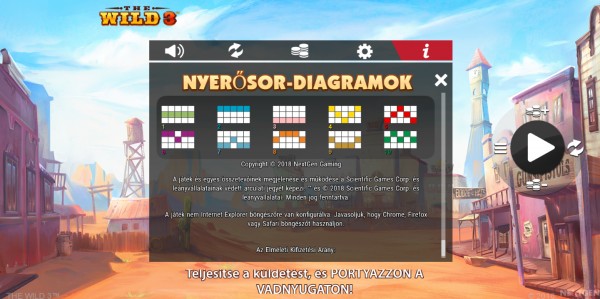 ---
A következő kaszinóknál elérhető a The Wild 3