The Cheshire Cat
Egy macska köré épül a The Cheshire Cat nyerőgép, melyben azonos szimbólumok kiforgatása a feladat, a 40 nyerővonal valamelyikére. Ezek száma nem módosítható, mindig aktív mindegyik. Magyar nyelvű felület és információs rész segíti az eligazodást, így minden apró részletet megismerhetünk a játék kapcsán.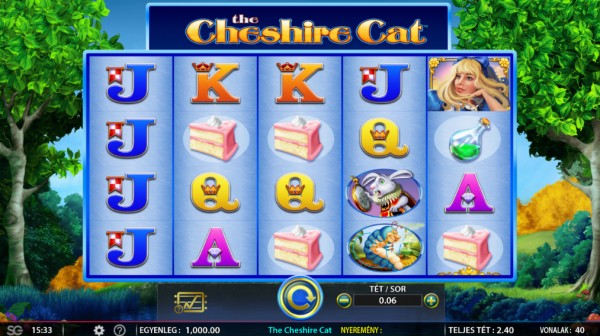 Játék menete
A tét meghatárosa a tét/sor részen történik, aminek neve már utal rá, hogy mi is történik. Az itt beállított összeg a sortét, ennek a negyvenszerese lesz a teljes tét egy pörgetés során. A játék indítása a tárcsák alatt középen található környíllal történik. Ekkor a játéktér felnagyobbodik, majd a pörgés után a tárcsák felett jelenik meg nyereményünk.
Speciális szimbólumok
Három vagy több bónusz jelkép aktiválja az ingyenes pörgetéseket. Ha például hármat kapunk ebből a színes körformából, akkor öt ingyenes pörgetés lesz a jutalom. Emellett még van egy speciális szimbólum, a wildot jelentő Cheshire Cat felirat. A bónuszon kívül minden mást helyettesítve hoz létre nyerő kombinációt.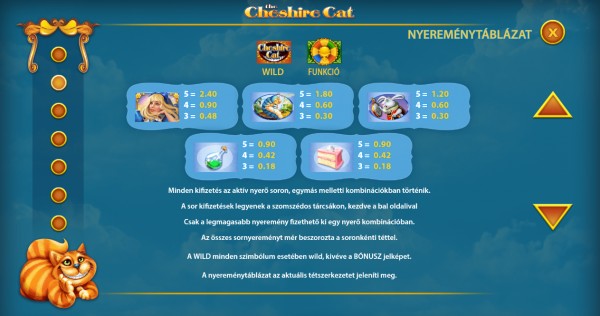 ---
A következő kaszinóknál elérhető a The Cheshire Cat