Elements: The Awakening
Az Elements: The Awakenning egy 5 tárcsás és 20 nyerővonalas játék, melyben meg kell küzdened az elemekkel! Az alap kifizetéseken felül, extra funkciók növelik az izgalmakat. Ilyen például wild szimbólumok különböző fajtái, amelyek több tárcsára kiterjedő jokerek lehetnek!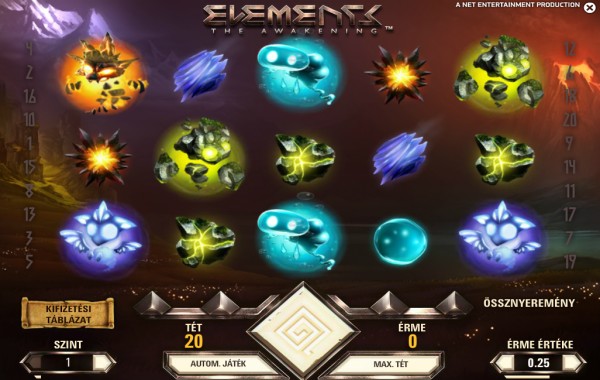 Játék menete
A nyerővonalak száma fix, mindig 20 aktív. Ezeket meg lehet nézni az info részen is, de a tárcsák melletti kis szürke számokra húzva a kurzort is látszanak. A Szintet és az Érme értékét viszont már nekünk kell megadni. Minden szinten egy-egy érmét teszünk fel az egyes sorokra. Például 2-es szinten 1 dolláros érmével játszunk, így az összes tét, amit felrakunk a forgatás során 40 dollár lesz. A játék indítása a környíllal történik.
Automata játék és Max tét
A játékban található 5 tárcsa automata módon is elindítható. Az Automata játéknál megadhatjuk, hogy mennyi forgatás menjen le a beállított tétszint mellett, illetve olyan extra lehetőségek is vannak, mint például hogy mekkora nyeremény esetén álljon le a tárcsák automatikus forgatása. A Max. tét is elindítja a tárcsákat, de ezzel érdemes vigyázni, mert az éppen aktuális érmeérték mellett, maximális tétszintet aktiválva kezdi meg a játékot.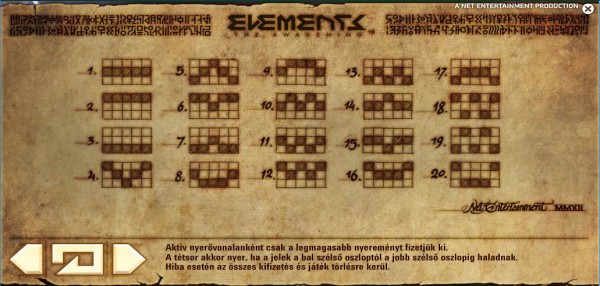 Ingyen játék
Próbáld ki a játékot ingyen, regisztráció, illetve befizetés nélkül. Amennyiben tetszik a játék, akkor kipróbálhatod valós tétért is a cikk végén található kaszinóteremnél/kaszinótermek egyikénél.
---
A következő kaszinóknál elérhető a Elements: The Awakening