Cyrus the Virus
A baktériumok és vírusok nem jelentenek jót, kivéve a Cyrus the Virus online játékgépben! Célunk azonos szimbólumok kiforgatása, a 10 nyerővonal valamelyikére. Magyar nyelvű leírás és felület segít minket a tájékozódásban, így arról is olvashatunk, hogy szerencsés esetben a feltett tét több ezerszerese is megnyerhető!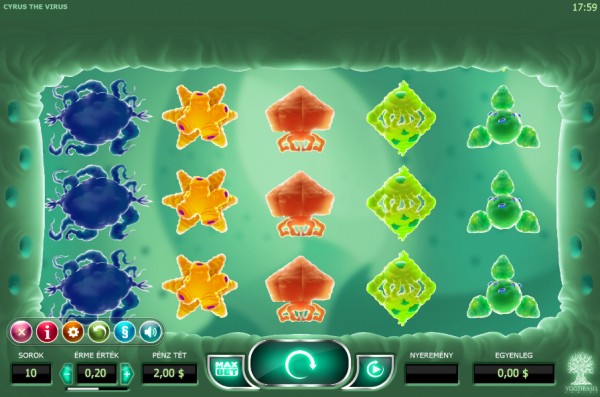 Játék menete
A nyerősorok száma nem változatható, mindig aktív mindegyik. A tétet az érme értékén keresztül tudjuk befolyásolni, a plusz és mínusz gombokkal. Minden körben 10 érmével játszunk, tehát minden sorra egy érme kerül, és ennek 10-szerese lesz a teljes tét. Ez az a pénzösszeg, amit az egyes forgatások során kockázatunk. A játék indítása a középső környíllal történik.
Wild szimbólum
A játékban az alap szimbólumokon felül van egy speciális tulajdonsággal bíró is, amin a wild felirat szerepel. Ez olyan, mint egy joker, minden más alakzatok képes helyettesíteni, így létrehozva nyerőkombinációkat. Szerencsés esetben teljes tárcsára is kiterjedhet, ilyenkor ingyenes újrapörgetést is aktivál.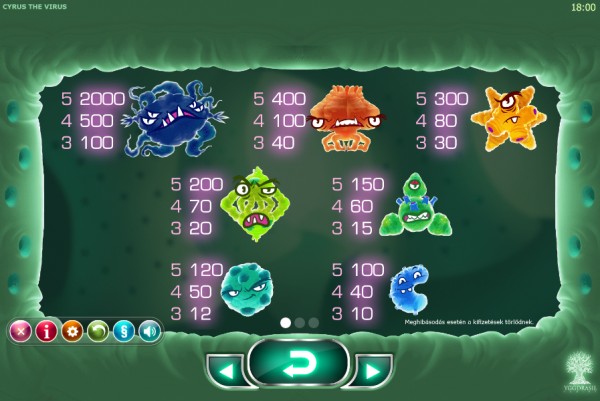 ---