Secrets of the Amazon
A Secrets of the Amazon egy 20 vonalas nyerőgép, mely az 5 tárcsán található szimbólumokkal egy igazi esőerdőt tár elénk. Láthatunk papagájokat, vagy épp pumákat, melyekből egyformákat kell kipörgetni a nyerővonalakra. Minden nyerő kombinációt megtekinthetünk a kifizetési táblázatban, amely azt mutatja meg, hogy a sortétet, mekkora szorzóval többszörözik kifizetésnél. A speciális alakzatok ingyenes pörgetéseket és extra nyereményeket jelentenek!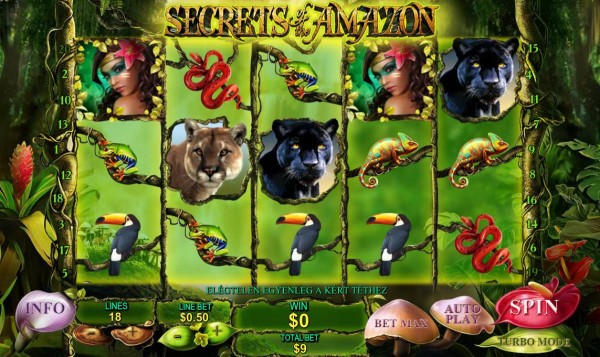 Játék menete
A Lines alatti plusz és mínusz gombokkal kell beállítani azt, hogy hány nyerővonalat aktiválunk a pörgetéshez. Mivel 20 vonalas a játék, ezért 1-től 20-ig módosítható. Mellette a Line bet a sortétre vonatkozik, tehát az egyes vonalakra feltett összeget jelenti. Például 50 centes sortétet állítunk be 18 vonalra, ekkor a teljes tét 9 dollár lesz. A Bet Max az összes vonalat kiválasztja és a játékot automatikusan el is indítja. Automata játékmód is elérhető, az Auto Play segítségével, ahol 10, 25, 50 és 99 pörgetésre van lehetőség.
Pörgetés
Amennyiben nem a Bet Maxot és Auto Play-t választottuk, akkor a Spinnel indítható a tárcsák pörgetése. Ez alatt egy Turbo Mode feliratot láthatunk, mellyel az animációkat deaktiválhatjuk, a gyorsabb forgatás érdekében. Azonos szimbólumok kipörgetése a cél a nyerővonalakra. Vannak speciális szimbólumok, melyekről az Info részen olvashatunk bővebben.
Kifizetési táblázat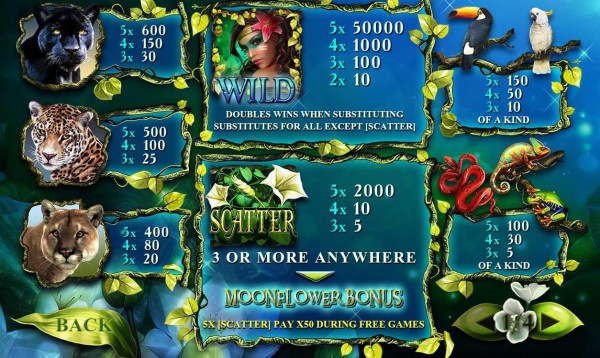 Nyerővonalak
---
A következő kaszinóknál elérhető a Secrets of the Amazon