Game of Thrones
A népszerű sorozatnak szentelték a Game of Thrones nyerőgépet, melyben 5 tárcsát forgathatunk, és összesen 243 fél módon nyerhetünk! Mindehhez azonos szimbólumokra van szükség, melyeknek összefüggő kombinációt kell alkotniuk, a baloldali tárcsától kezdődően! A kifizetési táblázatot érdekesebbé teszik a speciális szimbólumok, melyek egyedi funkcióval rendelkeznek!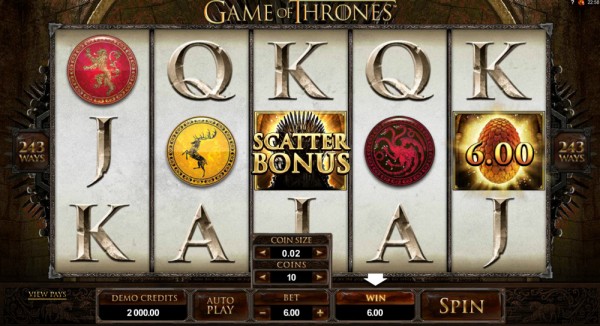 Játék menete
A Bet részen be lehet állítani az Érme (Coin) értékét és mennyiségét, de a Bet melletti plusz és mínusz gombokkal is módosítható a tét nagysága. A játék indítása a Spinnel történik, amit a tárcsák alatti részen, a jobb oldalon találhatunk meg. Van lehetőség automata módra is, az Autoplayre kattintva. Ekkor testre szabhatjuk, hogy milyen módon menjen le az automata mód.
Speciális szimbólumok
A scatter a hármas, négyes és ötös tárcsán tűnik fel, és ingyenes pörgetéseket ad, ha legalább hármat kapunk belőle. Emellett extra nyereményszorzót is jelent. A Game of Thrones felirat a wild, ami minden mást helyettesít, így létrehozva nyerő kombinációkat.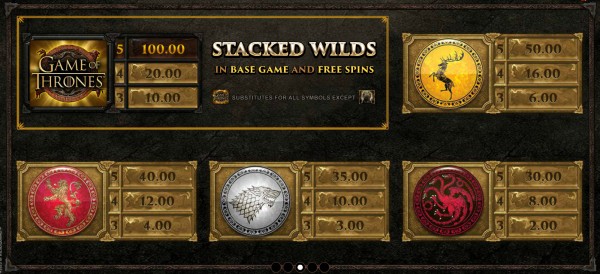 ---
A következő kaszinóknál elérhető a Game of Thrones