Wizard of Oz Ruby Slippers
A Wizard of Oz Ruby Slippers egy 30 vonalas 5 tárcsás játék, melyben a cél, hogy azonos szimbólumokat pörgessünk a nyerősorokra, a baloldali tárcsától kezdődően. A kombinációnak folyamatosnak kell lennie, és mindig csak a legmagasabb nyerőt fizetik ki. Magyar nyelvű felülettel és információs részleggel várja a játékosokat!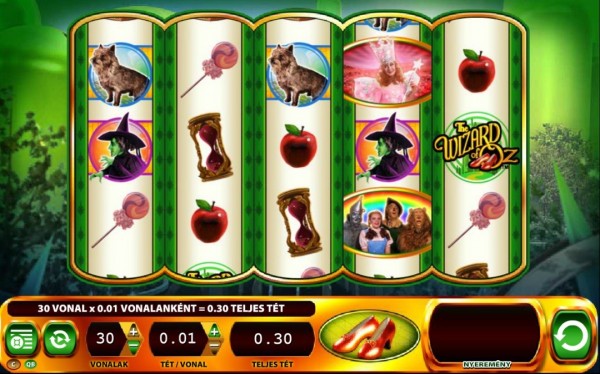 Játék menete
Módosítható a nyerővonalak száma és a tét is. Előbbit tízesével lehet növelni, vagy épp csökkenteni. Mind a 30 vonal megtekinthető az Infóban. A vonaltét arra vonatkozik, hogy az egyes sorokra mennyi pénzt rakunk fel. Ha például 10 centet állítunk be, 30 vonal mellett, akkor a teljes összeg, amit egy forgatás során felteszünk, 3 dollár lesz. A játék indítása a környíllal történik.
Speciális szimbólumok
Az alap karakterek mellett van egy wild és egy sor egyedi is, melyek egyedi funkcióval rendelkeznek. A wild minden mást helyettesít, kivéve speciális társait, amiket felsorolni is nehéz annyi van belőlük. Bővebben olvashatunk róluk a magyar nyelvű súgóban.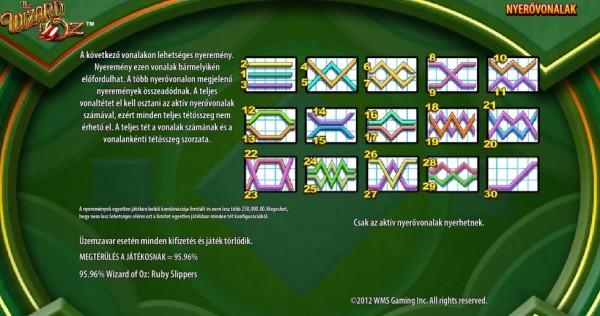 ---
A következő kaszinóknál elérhető a Wizard of Oz Ruby Slippers