Kingdoms Rise: Sands of Fury
Harcos szimbólumok jelennek meg a Kingdoms Rise: Sands of Fury játékgép tárcsáin, melyen 20 nyerővonalra kell a pörgetés végére azonos szimbólumokat kapnunk a kifizetés eléréséhez. Az egyforma szimbólumokból álló kombinációknak a baloldali tárcsától kell kezdődniük, és összefüggőnek kell lenniük, hogy nyereményt adjanak.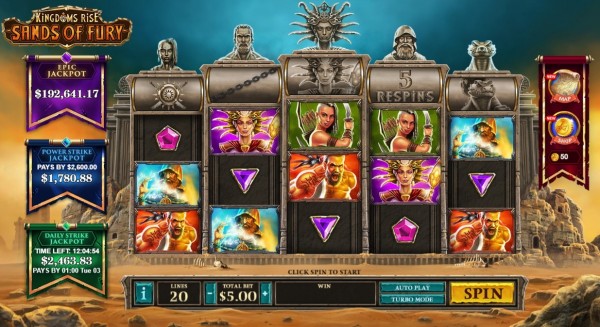 Játék menete
A nyerősorok száma fix, tehát nem módosítható. Mindig aktív mind a 20 vonal, amiket bővebben is megnézhetünk az információs részen. A total bet részen történik a tét meghatározása. Olyan összeget válasszunk, amit nem sajnálunk, hiszen a tárcsák gyorsan pörögnek, így az egyenlegünk is gyorsan lefogyhat. A játékot a Spin gombbal lehet elindítani.
Wild szimbólum
Vannak speciális szimbólumok, amik egyedi tulajdonságuk révén kiemelkednek a többi közül, ilyen például a wild is. Ebben a játékban kapásból öt wild van, mindegyik egy-egy különböző harcos. A funkciójuk attól, hogy öten vannak, még mindig a megszokott, tehát képesek pótolni bármely más szimbólumot, így létrehozva nyerő kombinációt.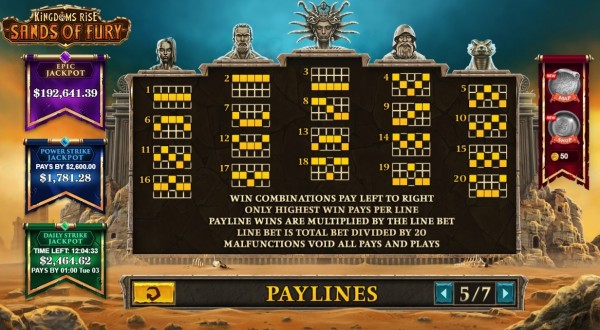 ---
A következő kaszinóknál elérhető a Kingdoms Rise: Sands of Fury