Peter and The Lost Boys
A Peter and the Lost Boys egy 25 nyerővonalas játék, melyben 5 forgó tárcsán az a cél, hogy azonos szimbólumokat forgassunk ki a vonalakra. Baloldali tárcsán kell kezdődniük a nyerő kombinációknak, melyekről bővebb leírást az infó részen találhatunk!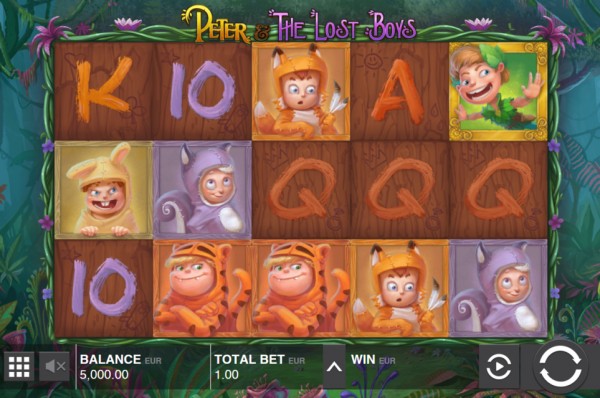 Játék menete
A Total betnél láthatjuk azt az összeget, amit egy forgatás során kockáztatunk. Itt lehet beállítani a tétet is, ha a felfelé mutató nyílra kattintunk. Ekkor előre megadott összegek közül lehet választani. A játék indítása a környíllal történik, ami mellett az automata mód található. Ez a nagy tételben játszóknak, vagy épp bónuszt pörgetőknek nagy segítség lehet, hiszen a tárcsák automatikusan elindulnak, a megadott ismétlésszám erejéig.
Speciális szimbólumok
A wild egy zöld ruhás kisfiú ebben a játékban, aki minden más szimbólumot helyettesít, kivéve speciális társait. Van még egy tükör is, mely a scatter. Az egyes, hármas és ötös tárcsán tűnhet fel, és egyedi lehetőségek aktivál, mint például ingyenes pörgetések.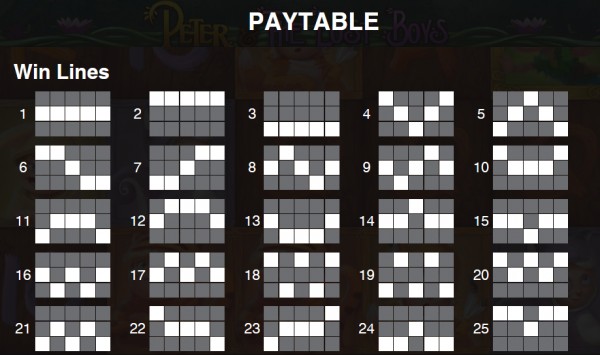 ---
A következő kaszinóknál elérhető a Peter and The Lost Boys