King of Slots
A King of Slots 25 nyerővonallal várja a játékosokat, és különböző extra funkciókkal, amelyek például ingyenes pörgetéseket adnak! A játék célja, hogy azonos szimbólumokat kapjunk a nyerővonalakra, a baloldali tárcsától kezdődően. Teljesen magyar nyelvű felület és súgó könnyíti meg a dolgunk!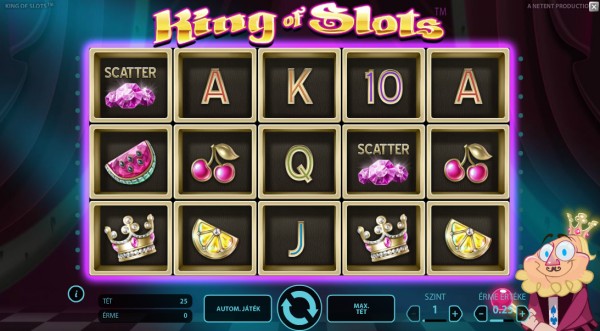 Játék menete
A nyerővonalak száma nem változtatható, mindig aktív mindegyik. Meg lehet nézni őket, ha a tárcsák melletti kék kis körökre húzzuk a kurzort. Pörgetés előtt be kell állítani a Szintet és az Érme értékét. Összesen 10 szint érhető el, minden egyes szint plusz 25 érmét jelent. Az Érme értéke 1 centtől egészen 2 dollárig növelhető a plusz és mínusz gombok segítségével. Mindezek után nincs más hátra, mint a játék megkezdése, a környíllal.
Extra játékmódok
A Wild feliratú szimbólum minden mást helyettesít, kivéve a Scattert. 5 vagy több Scatter jel aktiválja a Free Spins-eket, vagyis ingyenes, tét nélküli pörgetéseket. Ha 5-öt kapunk belőle, akkor 10 ingyenes kör kezdődik. A Sticky Win funkció is tovább növelheti a nyereményt!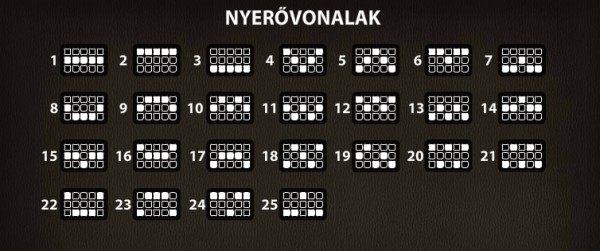 Ingyen játék
Próbáld ki a játékot ingyen, regisztráció, illetve befizetés nélkül. Amennyiben tetszik a játék, akkor kipróbálhatod valós tétért is a cikk végén található kaszinóteremnél/kaszinótermek egyikénél.
---
A következő kaszinóknál elérhető a King of Slots