20000 Leagues Under The Sea
Némó kaptiánnyal együtt kalandozhatunk ebben a játékgépben, melynél 50 nyerővonalra kell azonos szimbólumokat kiforgatni, a kifizetés eléréséhez. Jules Verne által megalkotott kapitány útjait a nyerőgépen magyar nyelven követhetjük, így minden felmerülő kérdésünkre a játék kapcsán választ kapunk. Tenger alatti szimbólumok, szörnyek és Némó kapitány is feltűnik a tárcsákon.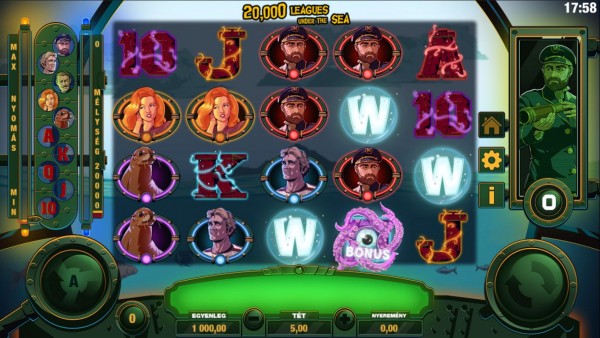 Játék menete
Pörgetés előtt a tétet kell meghatározni, ez lesz az a pénzösszeg, amit egyetlen forgatásért cserébe levonnak a számlánkról. A tét részen a plusz és mínusz gombok segítségével változtathatjuk az összeget. Mellette megjelenik az egyenlegünk is, így láthatjuk hogy mennyi pénzzel rendelkezünk a kaszinóban. A játék indítása a zöld környíl segítségével történik.
Automatikus játék
Időnként bónusz kiforgatásánál vagy épp csak ha nagy tételben akarunk játszani, jól jön az automata mód, aminél a tárcsák önmaguktól forognak a megadott ismétlésszám erejéig. Állíthatunk be veszteségi vagy épp nyereségi korlátot is, amit ha elérünk, az automata játékmód leáll.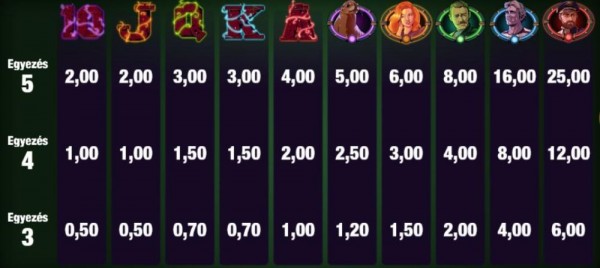 ---
A következő kaszinóknál elérhető a 20000 Leagues Under The Sea