Secret of the Stones
A Secret of the Stones egy 25 nyerővonalas játékgép, összesen 5 tárcsával. Kellemes hangulatvilág, mely még a zenére is kiterjed. Az info részen részletes olvashatunk el mindent a játékról, és emellett a kezelőfelület is teljesen magyar nyelvű, tehát elakadni biztosan nem fogunk!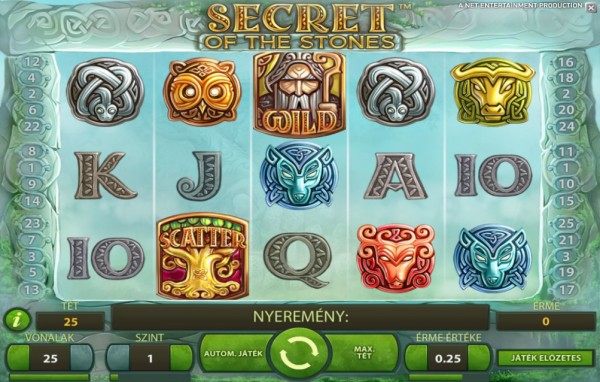 Játék menete
A nyerővonalak száma módosítható: 1-től egészen 25-ig. Emellett befolyásolja a pörgetés során felrakott tétet a Szint és az Érme értéke. Összesen 10 szint érhető el, minden egyes szinten plusz egy-egy érmét rakva minden sorra. Maximálisan egy dolláros érmével játszhatunk. A játék indítása a környíllal történik. Elindítja még a tárcsák pörgését a Max. tét is, aminél az aktuális érmeérték mellett, maximális tétszinten indul el a játék, az összes vonalat aktiválva.
Extra kifizetések
A Wild szimbólum minden mást helyettesít, kivéve speciális társait. A főjátékban a tárcsákon bárhol megjelenő 3 vagy több Scatter szimbólum ingyenes pörgetéseket indít el. Az ingyenes körök indulása előtt sírok közül kell választani, amelyek meghatározzák az ingyenes pörgetések számát, és az extra nyereményszorzó nagyságát.
Nyerővonalak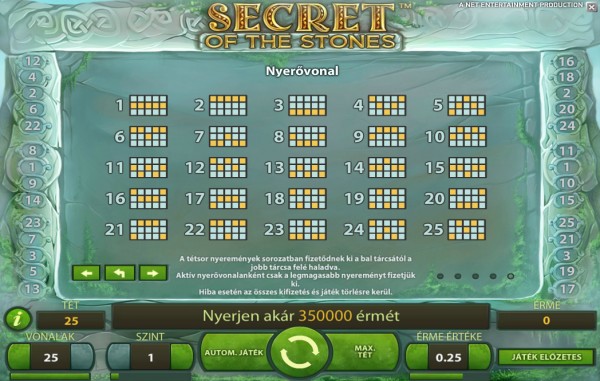 Ingyen játék
Próbáld ki a játékot ingyen, regisztráció, illetve befizetés nélkül. Amennyiben tetszik a játék, akkor kipróbálhatod valós tétért is a cikk végén található kaszinóteremnél/kaszinótermek egyikénél.
---
A következő kaszinóknál elérhető a Secret of the Stones