Book of Christmas
Karácsonyi hangulatot áraszt a Book of Christmas nyerőgép, melyben természetesen azonos szimbólumok gyűjtése a célunk. Ha ez összejön a forgatás végére, akkor a kifizetési táblázat szerint alakul a nyeremény. A játékkal való boldogulásunkat segíti, hogy a nyerőgép felülete magyar nyelvű, mint ahogy a játék infromációs része is.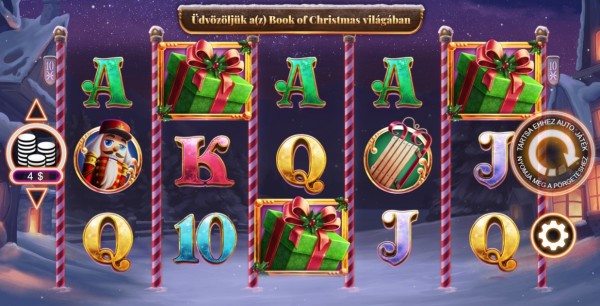 Játék menete
A tét beállítása a játék jobb oldalán található zsetonoszlopra kattintva történik, a felfelé és lefelé mutató nyilak segítségével. Fontos, hogy számunkra megfelelő összeget válasszunk, mert a játékkörök gyorsan pörögnek, ezáltal az egyenlegünk is gyorsan fogy. Az öt forgó tárcsán a célunk, hogy a tíz nyerővonal valamelyikére azonos szimbólumokból álló azonos kombinációt forgassunk ki.
Wild szimbólum
A wild szimbólum minden szimbólumot helyettesíthet, kivéve a Free Spins szimbólumot. Ez utóbbi szimbólum az alapjáték során bárhol megjelenhet, és ahogy az angol neve is mutatja, ingyenes, tehát tét nélküli köröket ad jutalmul.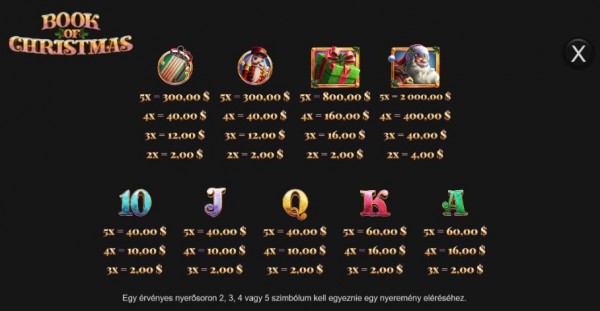 ---