Creature from the Black Lagoon
A Creature from the Black Lagoon a híres film előtt tiszteleg látványvilágával. 5 tárcsás, 3 soros és 20 nyerővonalas, extra funkciókkal, mint például az ingyenes pörgetések. A játék magyar felületű, így könnyen elboldogulhatunk a kezelésével.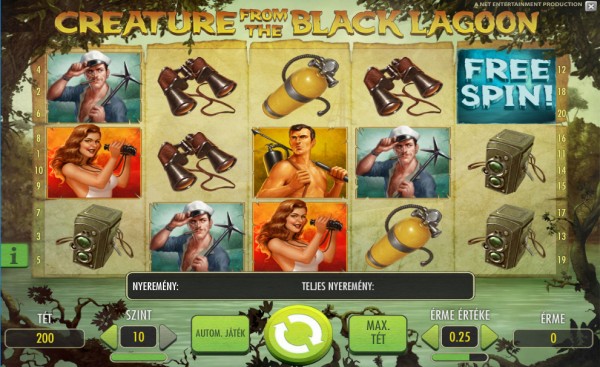 Játék menete
A 20 nyerővonal fix, azokat nem tudjuk kiválasztani és módosítani. Minden sorra egy érme kerül fel, tehát szintenként összesen 20. Amikor a tétet megadjuk, akkor szintet kell választani (1-től 10-ig), illetve az érme értékét kell meghatározni, ami maximum 1 dollár lehet. Ha például 10-es szinten 25 centes érmével játszunk, akkor a pörgetés során 50 dollárt teszünk fel. A játék indítása a környíllal történik. Az Automata játék során előre meghatározott számú kör megy le, a játékos aktív részvétele nélkül. A Max. tét az éppen aktuális érmeérték mellett, maximális tétszinten indítja el a tárcsákat.
Wild és Free Spin
A Wild jelek (Creature from the Black Lagoon feliratok) bárhol megjelenhetnek a játékban, és minden más szimbólumot helyettesítenek, kivéve a Free Spint. Ez utóbbi is bárhol előkerülhet a pörgetés után, és ingyenes köröket ad. Minimum három kell belőle, ekkor 10 ingyenes kör kezdődik (4 esetén 15 kör, míg 5 jelnél 20).
Nyerővonalak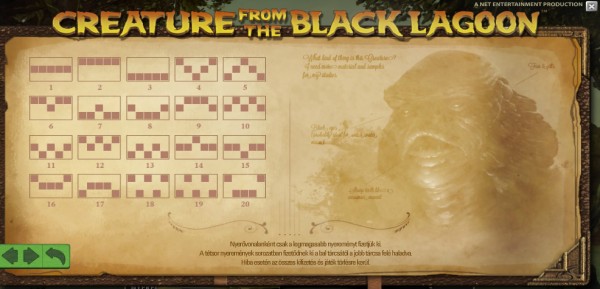 Ingyen játék
Próbáld ki a játékot ingyen, regisztráció, illetve befizetés nélkül. Amennyiben tetszik a játék, akkor kipróbálhatod valós tétért is a cikk végén található kaszinóteremnél/kaszinótermek egyikénél.
---
A következő kaszinóknál elérhető a Creature from the Black Lagoon