Ticket to the Stars
Jegyet váltanál a jövőbe? Ezt a nyerőgépet akkor neked találták ki, hiszen a Ticket to the Stars-ban a repülés világa keveredik a jövővel. A tárcsákon pilóták, utaskísérők és robotok jelennek meg. Egyforma szimbólumok gyűjtése a cél, ami ha megtörténik, akkor a kifizetési táblázat szerint hoz nekünk nyereményt a számlánkra. Egy próbát megér a játék!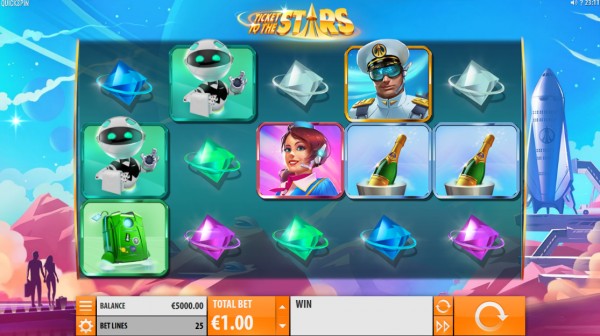 Játék menete
Az indítás a környíllal történik, de előtte érdemes a tétet meghatározni, amit a total bet részen tehetünk meg. A fel és lefelé mutató nyilakkal tudjuk módosítani a tétet, de ha a total betre kattintunk, akkor egy felugró ablakból akár előre meghatározott összegeket is láthatunk. A választott tét egyetlen pörgetés ára, ezt vonják le minden egyes játékkör elején a számlánkról.
Speciális lehetőségek
Nyereményszorzó növelő van a játékban, ez akkor fokozódik, ha nyerő kombinációkat forgatunk. Ekkor nő a szorzó értéke, és több lesz a kifizetés. Emellett van még Bonus szimbólum is, ami ingyenes körökhöz juttat minket. Három Bonus szimbólum például 15 tét nélküli pörgetést eredményez.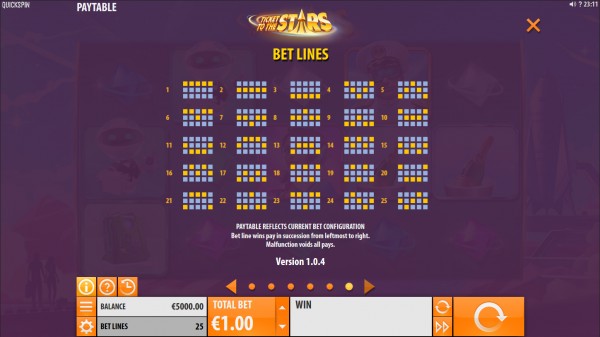 ---
A következő kaszinóknál elérhető a Ticket to the Stars