Bust the Bank
Bankrablókká válhatunk a Bust the Bank online játékgépben, melyben 243 féle módon nyerhetünk. Ehhez azonos szimbólumokra lesz szükség, amiknek a baloldali tárcsától kezdődő sorozatot kell alkotniuk. Az alap szimbólumokon felül vannak speciálisak is, melyek egyedi funkciójukkal növelik az izgalmakat, és ami fontosabb, a kifizetési lehetőségeket is!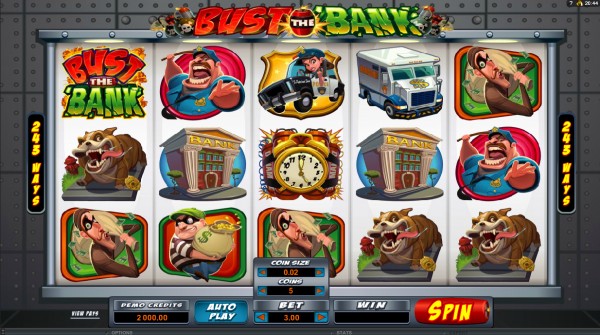 Játék menete
Mielőtt belevágunk a pörgetésbe, érdemes meghatározni a tét nagyságát, amit egy játékkör során kockáztatunk. A tárcsák alatt található a Bet rész, ahol a jobbra és balra mutató nyilak segítségével kedvünkre módosíthatjuk az összeget. A játék indítása a jobb oldalon lévő Spinre kattintva történik.
Automata mód
Ha nagy tételben akarunk játszani, például bónuszt próbálunk teljesíteni, akkor jöhet jól az automata mód. A tárcsák ilyenkor automatikusan pörögnek egészen addig, míg meg nem állítjuk, vagy az előre beállított feltétel nem teljesül. Megadhatunk ismétlésszámot, vagy épp veszteséghatárt is.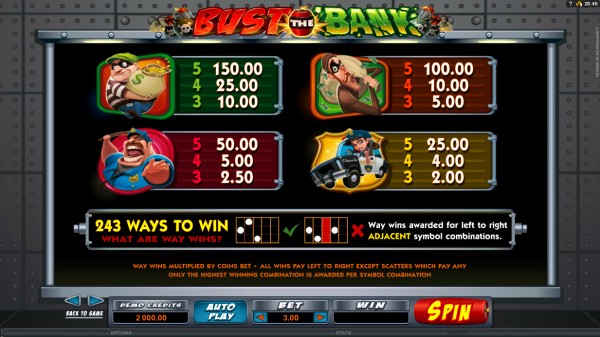 ---
A következő kaszinóknál elérhető a Bust the Bank