Valley of the Gods
Különleges egyiptomi világot hoz el nekünk a Valley of the Gods, melyben az öt tárcsán alapjáraton nem aktív minden mező, csak a középső tárcsán. A játék zenéje és képi világa is az istenek köré épül, mintha egy piramisban járnánk a pörgetés során.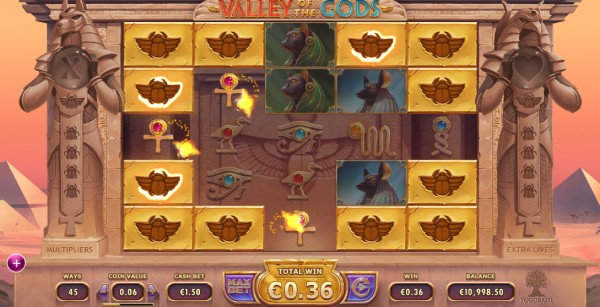 Játék menete
Összesen 3125 féle módon lehet nyerni a játékban, melyekről bővebben az információs részen olvashatunk. A tárcsák indítása előtt érdemes a tétet beállítani, a Coin Value részen plusz és mínusz gombok segítségével. A középső gombbal vághatunk bele a játékba, de a Max Bet is a tárcsák indítását generálja, a tétet maximálisra állítva. Van automata mód is, ennél az előre beállított mennyiségű pörgetés megy le, az aktív részvételünk nélkül.
Extra lehetőségek
Aktiváld mindkét szkarabeuszgyűjteményt és szerezz plusz 1 extra életet. A plusz 1 élet minden összegyűjtött 5 vörös szkarabeusz után jár. Az egyszimbólumos nyereményeket úgy lehet megkapni, hogy összeszámoljuk az egymás utáni oszlopok számát balról. Ha az egymás utáni szimbólumok száma 3 vagy nagyobb, akkor meg kell nézni a megfelelő sort a kifizetési táblázatban.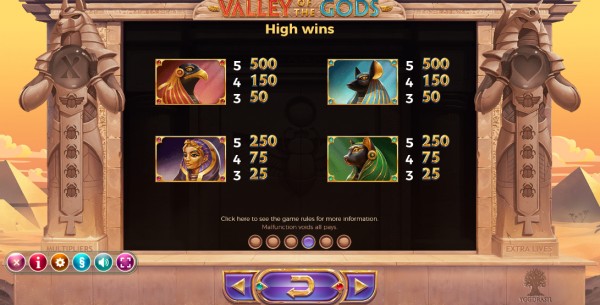 ---
A következő kaszinóknál elérhető a Valley of the Gods