Kingdoms Rise: Guardians of the Abyss
Királyok harci világába csöppenünk a Kingdoms Rise: Guardians of the Abyss játékgéppel, melyben 25 nyerővonalra kell azonos szimbólumokat kapnunk a forgatás végére, hogy kifizetést érjünk el. Ha ez összejön, akkor az információs részen található kifizetési táblázat szerint alakul a nyereményünk!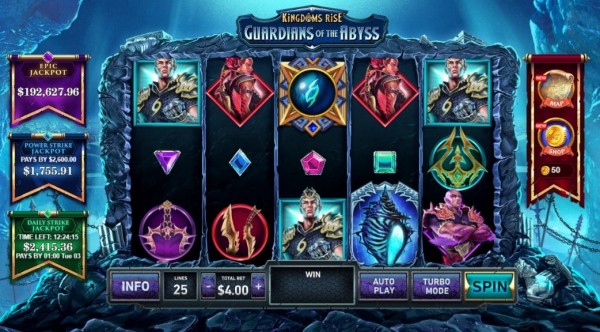 Játék menete
A nyerővonalak száma nem módosítható, ezt a Lines részen láthatjuk is, hogy mindig 25 aktív sorral játszunk. A total bet részen a plusz és mínusz gombokkal tudjuk a tétet változtatni. Ez lesz az az összeg, amit egyetlen forgatás során kockáztatunk. A játékot a Spinnel tudjuk elindítani. Emellett van a Turbo Mode, ennek segítségével a tárcsák gyorsabban forognak.
Wild szimbólum
A játék során a tárcsákon megjelenő szimbólumokból kell azonosakat kapnunk ahhoz, hogy kifizetést, tehát nyereményt érjünk el. Vannak speciális szimbólumok, amik egyedi tulajdonságuk révén kiemelkednek a többi közül. Ilyen például a wild, ami ebben a játékban egy W betűs szimbólum. Minden más szimbólumot képes helyettesíteni, így létrehozva nyerő kombinációkat.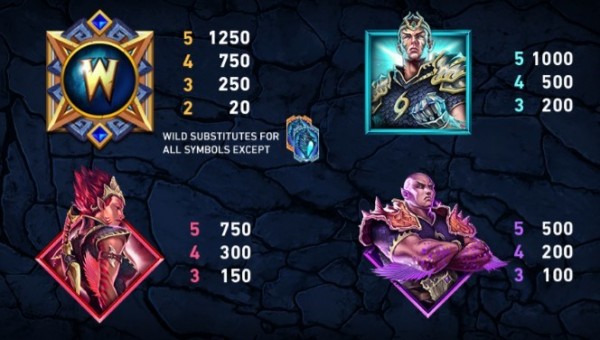 ---
A következő kaszinóknál elérhető a Kingdoms Rise: Guardians of the Abyss