Hall of the Mountain King
A Hall of the Mountain King egy 20 nyerővonalas és 5 tárcsás játék, egyedi szimbólumokkal. Ezek a speciális alakzatok növelik a kifizetési lehetőségeket, miközben az alapvető célunk az egyforma szimbólumok gyűjtése. Részletesen személyre szabható a játék, a hang kikapcsolásától kezdve, a tárcsák forgásának felgyorsításán át, lényegében mindent beállíthatunk.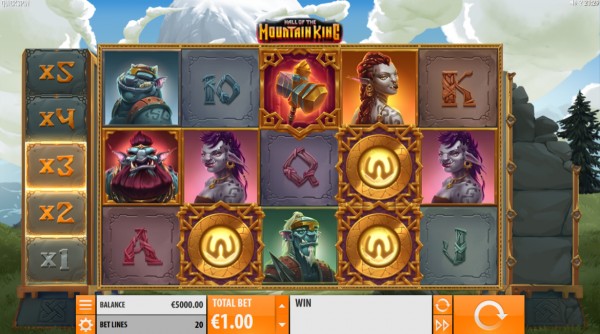 Játék menete
A tét beállítása a Total bet részen történik, a fel és lefelé mutató nyilakkal, de az összegre kattintva is megadhatjuk, mennyit szeretnénk kockáztatni egyetlen forgatással. Ekkor egy lista ugrik fel, előre meghatározott összegekkel. A játék indítása a tárcsák alatti környíllal valósítható meg, emellett találhatjuk a turbó módot, illetve az automata játékot is.
Wild szimbólum és társa
Játék közben tehát az a célunk, hogy egyforma szimbólumokat kapjunk a forgatás végére. Ebben nyújt segítséget a játék egy speciális jele is, a wild. Ez minden mást helyettesítő szimbólum, így segít létrehozni nyerő kombinációt. De a joker funkció mellett is van egy speciális tulajdonsága, méghozzá az, hogy szerencsés esetben növeli a kifizetési szorzót.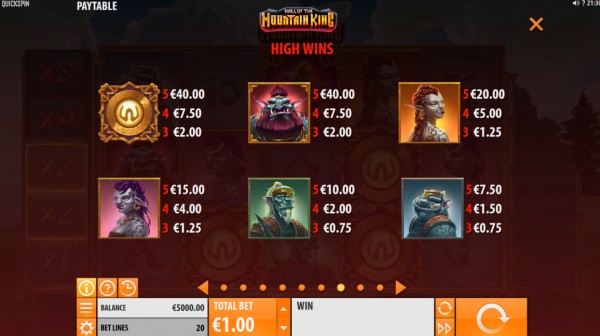 ---
A következő kaszinóknál elérhető a Hall of the Mountain King