Rich Wilde and the Tome of Madness
Az átlagos nyerőgépeket megszégyenítő intróval nyit a Rich Wilde and the Tome of Madness, ami teljesen magyar nyelvű felülettel rendelkezik, emellett pedig a játék leírása is teljesen magyar nyelven olvasható. Hasznos ez, hiszen így minden felmerülő kérdésre és problémára megoldást találhatunk. A játékban speciális szimbólumok gondoskodnak az izgalom növeléséről és a nyeremény nagyobbá tételéről!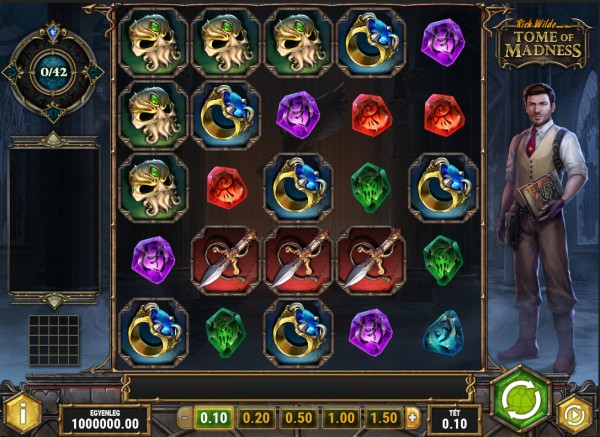 Játék menete
A tétek kiválasztása a tárcsák alatti listából történik, itt vannak centes tételek, de akár eurós összeget is kockáztathatunk egyetlen pörgetés során. A teljes egyenlegünk is megjelenik, ami hasznos tud lenni. A játék a zöld környíllal kezdhető meg, emellett található az automata mód. Ez a nagy tételben játszóknak lesz kellemes funkció.
Töltsd meg a portált!
A készítők próbálnak minket minél tovább a játékhoz kötni, ennek egyik eszköze a portál. Ezt minden egyes nyerő körrel töltjük, és miközben növekszik a szintje, special wildok kerülnek a játéktérre. Ebből a fajta wildből nem csak egy van, egész sok érhető el belőle. Bővebben írnak róluk az információs részen.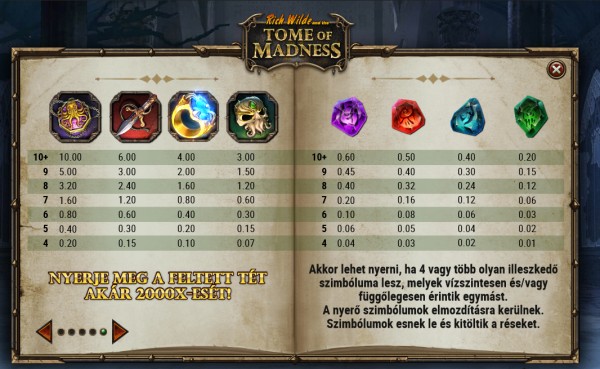 ---
A következő kaszinóknál elérhető a Rich Wilde and the Tome of Madness