Ice Hockey
Az Ice Hockey egy 15 vonalas és 5 tárcsás nyerőgép, amelynél a játék témáját is meg lehet választani. Még a tárcsák megjelenése előtt országokat kell választani. A szimbólumok egy része ezután nemzeti színekben pompázik. Nem csak a megjelenés miatt fontos ez, hanem azért is, mert a nyerővonalakon a csapatok figurái saját oldalukról indulva fizetnek, míg a Wild például mindkét irányban!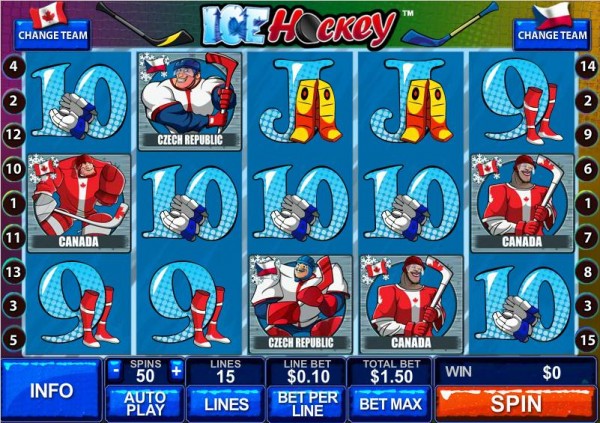 Játék menete
A Lines gombbal állítjuk be a nyerővonalak számát, mely tehát 1-től 15-ig változtatható. Mellette a Bet per line a nyerővonalakra feltett pénzt jelenti. A Bet Maxra kattintva maximális vonallal elindul a játék és fontos megjegyezni, hogy automatikusan, kérdés nélkül! Amennyiben megvagyunk a tét beállításával és nem használtuk a Bet Maxot, akkor a Spinre klikkelve indulhat a pörgetés. Az átlagos szimbólumokból három egyformára van szükség, míg a speciálisakból már kettő is elegendő az extra nyereményekhez.
Kifizetési táblázat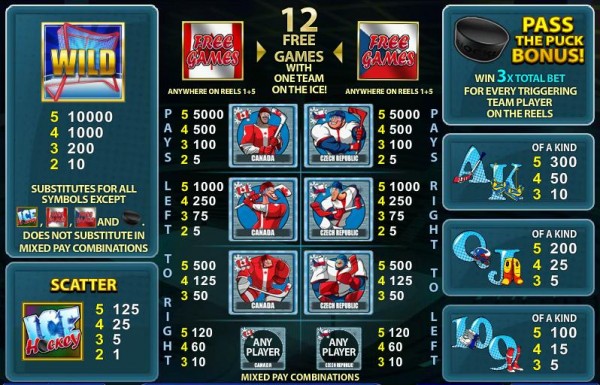 Wild és szórás szimbólum
A Wild feliratú jégkorongkapu minden mást helyettesít, kivéve a speciálisakat, így kialakítva nyerő kombinációkat. Nem csak jokerként működik, hiszen ha nyerővonalon kettő vagy több jelenik meg belőle, akkor a kifizetési táblázatban szereplő szorzót kapjuk utána. Jobbról balra és balról jobbra is fizet! A szórás az Ice hockey szöveg, aminek nem kell nyerővonalon szerepelni ahhoz, hogy a teljes tétet felszorozza. Minimum kettőre lesz szükség belőle.
Pass the Puck Bonus
A fekete korong szimbólum csak a kettes és négyes tárcsán jelenik meg. Miután bárhol megjelenik például a kettesen, egy bal oldali csapataggal, akkor ez a játékos minden látható társának átpasszolja. Amikor egy csapatag hozzáér a koronghoz, hármas szorzót lehet nyerni. Ugyanez vonatkozik a négyes tárcsán lévőre is, mely a jobb oldali csapattal működik.
Nyerővonalak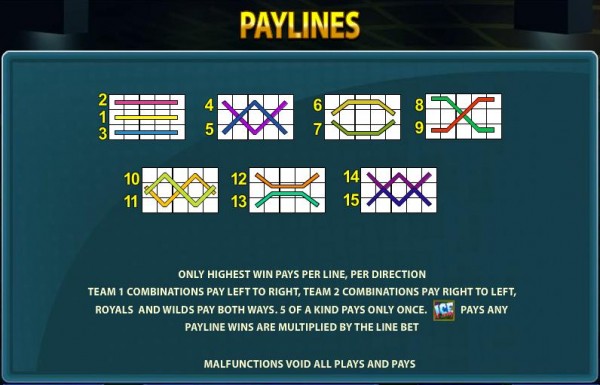 ---
A következő kaszinóknál elérhető a Ice Hockey