Finn and the Swirly Spin
Egyedi hangulattal vár minden játékost a Finn and the Swirly Spin nyerőgép, melyben a megszokottól eltérően nem tárcsákat forgatunk, hanem körkörös alakban beesnek a szimbólumok. A játék célja viszont átlagosnak mondható, hiszen egyforma alakzatok érhetnek kifizetést.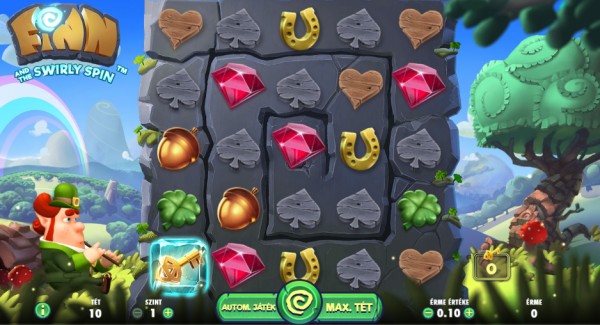 Játék menete
A tét beállításával érdemes kezdeni a játékot, amit többféle gomb segítségével tehetünk meg. Egyrészt módosíthatjuk az Érme értékét, másrészt a tét szintjét is, ez utóbbit egytől egészen tízig. A játék indítása a középső gombbal történik, de a Max tét is startot kezdeményez, maximális téttel. Automata játékra is van lehetőség, ekkor előre meghatározott számú pörgetés megy le.
Random funkciók
Négy különböző random funkció érhető el a játékban: Starfall Wilds, Dragon Destroy, Irish Luck és Magic Transform. A Starfall Wilds kettő vagy több wildot helyez el a tárcsákon véletlenszerűen. A Dragon Destroy funkció csak akkor élesíthető, ha a Dragon Destroy élesítése előtt nem volt nyeremény. Az Irish Luck csak akkor aktiválható, ha nincs nyeremény a tárcsákon a kezdő pörgetés után. A Magic Transform funkció átváltoztat minden kör és pikk jelképet egy többet fizető jelképpé.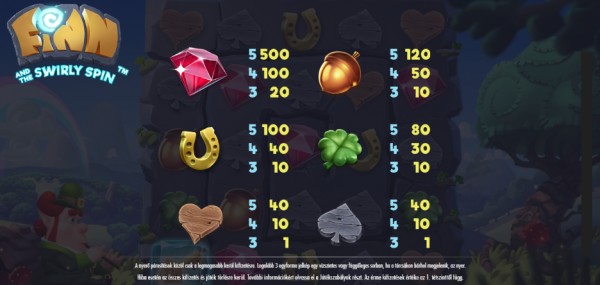 ---
A következő kaszinóknál elérhető a Finn and the Swirly Spin