Champions of Rome
Gladiátorok világába juthatunk el a Champions of Rome játékgéppel, amiben 20 nyerővonalra kell azonos szimbólumokat kiforgatnunk a nyeremény eléréséhez. Teljesen magyar nyelvű a felület és a súgó rész is, így minden kérdésünkre választ kaphatunk. Az információs részen a speciális szimbólumokról is írnak, és az egyedi funkciókról is, melyekkel nagyobb nyeremény érhető el.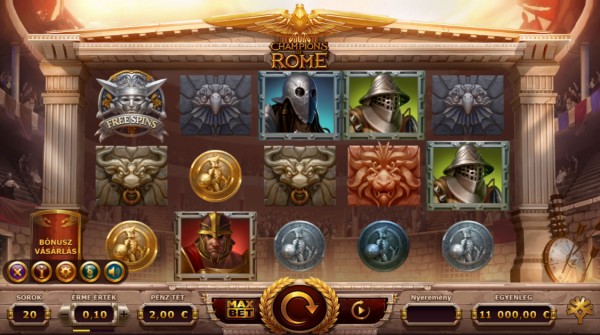 Játék menete
Mindig aktív mind a 20 nyerősor, amin nem tudunk változtatni. A tét meghatározása viszont már a mi feladatunk természetesen, ehhez az Érme értéke részt kell használni, a plusz és mínusz gombokat. Az Érme értéke centes nagyságrendtől egészen az eurós tételig növelhető. A pénz tét részen megjelenő összeg lesz az, amit levonnak a számlánkról egyetlen forgatás során.
Speciális szimbólumok
Többféle játékmód és egyedi szimbólum is van a játékban, ilyen például a mindent helyettesítő wild, ami egyfajta jokerként működik. Szabad forgatás módból is több van, a Deathmatch során például véletlenszerűen osztanak vígaszdíjat azoknak, akik nem nyernek legalább 450 érmét.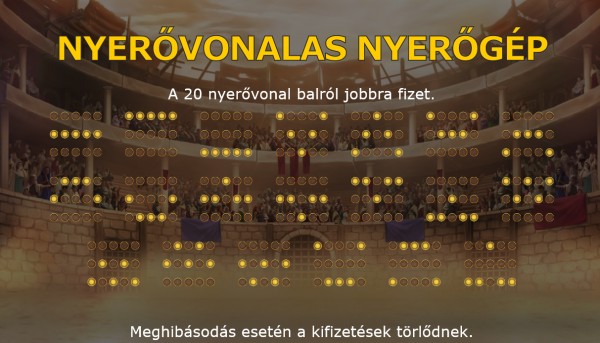 ---
A következő kaszinóknál elérhető a Champions of Rome