The Money Drop
A The Money Drop egy 20 vonalas és 5 tárcsás nyerőgép, ahol azonos szimbólumok kiforgatása a cél, a nyerővonalak valamelyikére. Emellett a speciálisak segítségével bónuszjátékok indíthatóak. Érdemes egy próbát tenni vele, hiszen szerencsés esetben a feltett tét 2500-szorosát is meg lehet nyerni!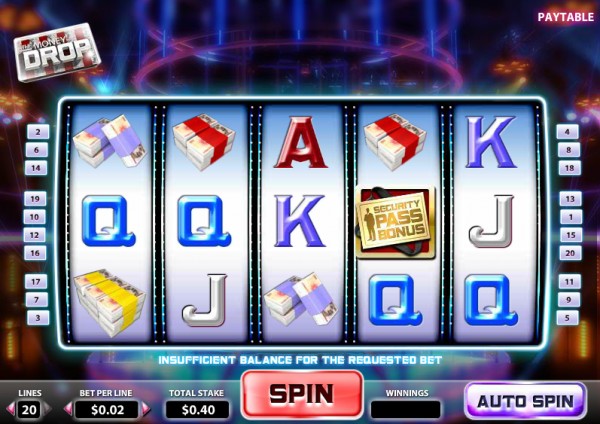 Játék menete
A 20 nyerővonalat a Lines alatti nyilak segítségével kell kiválasztani. Mellette látható a Bet per line, ami a sorokra feltett pénzt, tehát a sortétet jelenti. Ha például 20 vonalat állítunk be, amikre 2 centet rakunk, akkor a teljes tét 40 cent lesz. Automata játékmódot tesz lehetővé az Auto Spin, ekkor minden nélkülünk történik. A tét meghatározása után a Spinnel lehet elindítani a tárcsákat, azonos szimbólumok reményében.
Kifizetési táblázat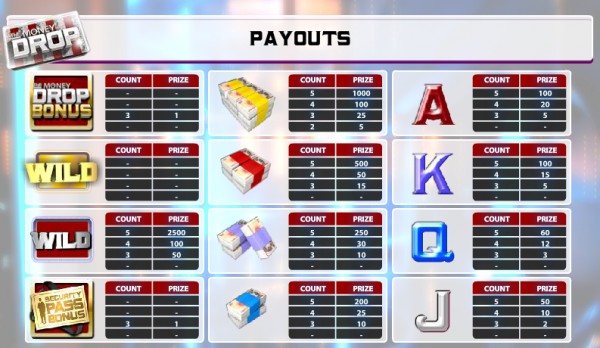 Wild és bónusz szimbólum
A wild feliratú mező minden más szimbólumot helyettesít, kivéve a speciálisakat. Egy nyerővonalra amennyiben hármat, vagy többet forgatunk belőle, arra a kifizetési táblázatban látható szorzó jár. A Money Drop és Security Pass mezők bónuszjátékot indítanak el, amelyek során ingyenes pörgetéseket és pénznyereményeket lehet szerezni. Előbbi csak az egyes, hármas és ötös tárcsán, míg utóbb csak a kettes, hármas és négyes tárcsán szerepel.
Nyerővonalak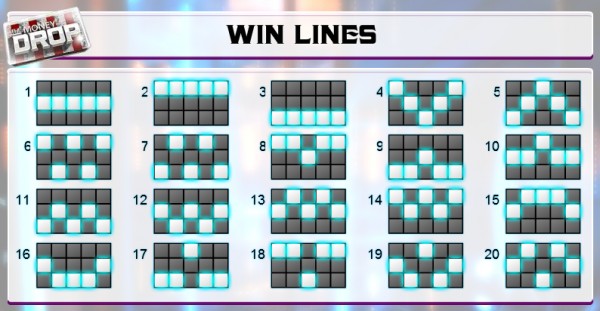 ---
A következő kaszinóknál elérhető a The Money Drop