Hong Kong Tower
A Hong Kong Tower ahogy a neve is mutatja, egy üzleti épület köré épül, mely Hong Kongban található. Összesen 99 nyerési módot érhetünk el, amikhez azonos szimbólumokra van szükség. A játék magyar nyelvű felülettel, speciális szimbólumokkal és különböző stratégiákkal vár ránk.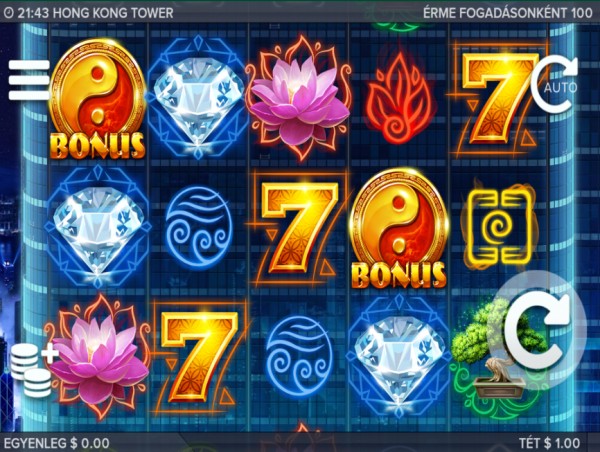 Játék menete
A tét beállításával érdemes kezdeni a játék, meghatározni hogy mennyit kockáztatunk egy játékkör során. Minden pénznemben 12 tétszint érhető el, egy fogadás értéke 100 érme. A nagy volumenben játszóknak jó hír lehet a fogadási stratégia, mely egy előre meghatározott terv alapján növeli, vagy épp csökkenti a tétet attól függően, hogyan alakul a játékkörök eredményessége. A játék indítása a környíllal történik!
Speciális szimbólumok
A rejtély szimbólum másik szimbólummá alakul, miután a tárcsák megálltak. Az átalakult bónusz szimbólum 5 szimbólumnak számít. Három bónusz indítja a Wheels of the sky játékot. 4 bónusz szimbólum még egy további életet jelent, míg öt esetén két további élettel számolhatunk.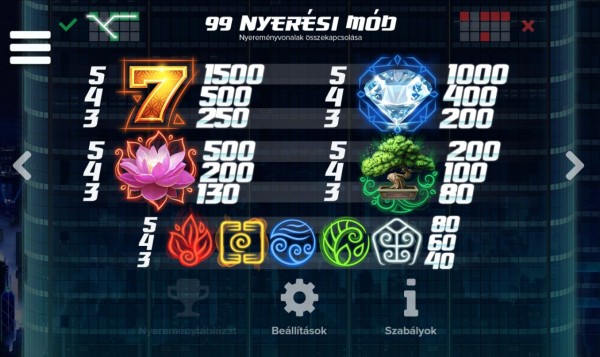 ---
A következő kaszinóknál elérhető a Hong Kong Tower