Fantasini: Master of Mystery
A bűvészek és varázslatok világába visz el minket a Master of Mystery, mely egy 5 tárcsás nyerőgép. Tárcsáin ennek a világ a jellegzetes elemei jelennek meg, mint például kártyalapok, jósgömbök. A nyeremény eléréséhez azonos szimbólumokra van szükség, a bal oldali tárcsától kezdődően. Tovább színesítik a kifizetést az extra funkciók, mint például a Linked Reels.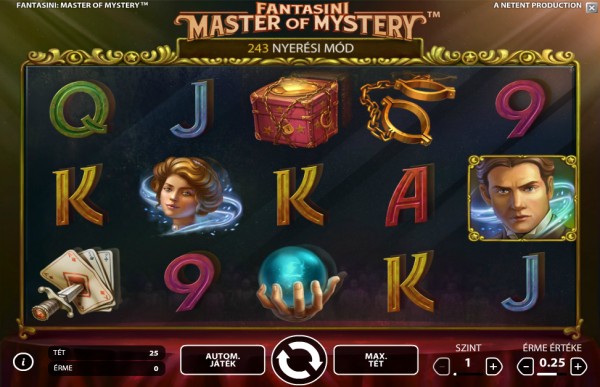 Játék menete
A játék indítása előtt a téteket kell beállítani, amit a Szint és az Érme értékének a meghatározásával tehetünk meg (plusz és mínusz gombok segítségével). Szintenként 25 érmét tudunk tétnek felrakni, összesen 10 szintre. Ezek után a környíllal tudjuk elindítani a tárcsák pörgését. Van lehetőség Automata játékra, ahol előre beállított számú pörgetés fut le, illetve a Max. téttel is megkezdhetjük a játékot. Ez a funkció mind a 243 nyerővonalat aktiválja, a legnagyobb téttel az aktuális érmeérték mellett.
Extra funkciók
A Linked Reel funkció az 5 tárcsa bármelyikén megjelenhet, és mindig két egymás melletti tárcsával kezdődik, melyek kapcsolódnak. A pörgetés során ez kiterjedhet három, négy vagy akár mind az öt tárcsára. Említést érdemel továbbá a Wild szimbólum is, ami minden más szimbólumot helyettesít, és csak a második, harmadik, negyedik és ötödik tárcsán jelenik meg.
Kifizetési táblázat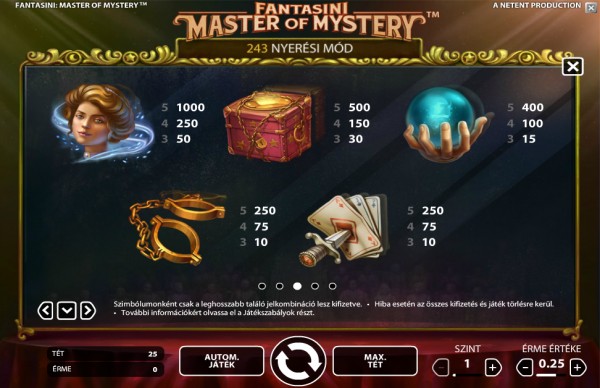 ---
A következő kaszinóknál elérhető a Fantasini: Master of Mystery