Lady of Fortune
A Lady of Fortune egy 15 nyerővonalas játék, melyben 5 forgó tárcsán az a cél, hogy a szimbólumokból összefüggő, egyforma elemekből álló kombinációt forgassunk ki a vonalak valamelyikére. Ha ez összejön, akkor a kifizetési táblázat szerint alakul a nyeremény, melyet a magyar nyelvű infó részen találhatunk!
Játék menete
Minden beállítási lehetőség a rendelkezésünkre áll, így teljesen egyedi téteket adhatunk meg. Az érme értéke, a nyerővonalak száma, és az érme mennyisége is megadható, így testre szabva a számunkra megfelelő nagyságú tétet, amit egy kör során kockáztatunk. A játék indítása a Start gomb megnyomásával történik!
Speciális szimbólumok
A dzsóker szimbólum speciális tulajdonsággal rendelkezik, minden mást helyettesít, és így hoz létre nyerő kombinációkat. Helyettesítéskor megszorozza a nyereményt. A bónusz szimbólum kiváltja a bónuszjátékot, ha legalább hármat kapunk belőle. Ennek segítségével az össztétnek akár 150-szeresét is meg lehet nyerni!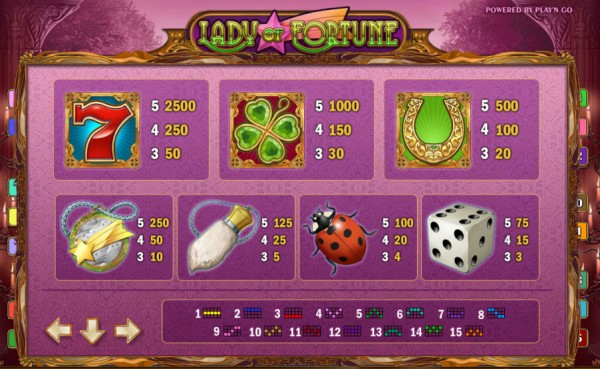 ---
A következő kaszinóknál elérhető a Lady of Fortune