The Wish Master
A The Wish Master egy egzotikus arab nyerőgép, amelyben az álmaid valóra válnak! Szerencsés esetben a Dzsinn megnöveli a nyereményed! Természetesen a cél, mint minden nyerőgépnél, hogy azonos szimbólumokat pörgess ki, a baloldali tárcsától kezdően, a nyerővonalak egyikére!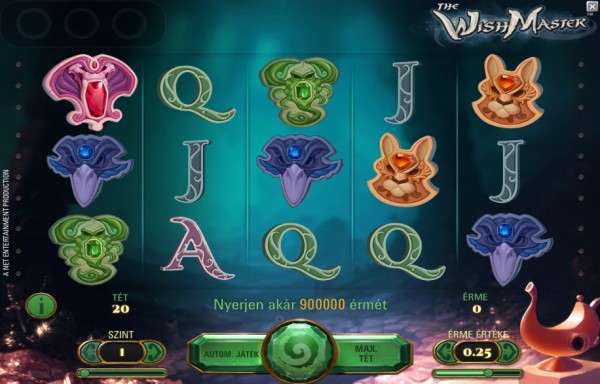 Játék menete
A 20 nyerővonal fix, nem tudjuk kiválasztani és módosítani őket. Minden sorra egy érme kerül fel, tehát szintenként összesen 20. Amikor a tétet megadjuk, akkor szintet kell választani (1-től 10-ig), illetve az érme értékét kell meghatározni, ami maximum 1 dollár lehet. Ha például 2-es szinten 1 dolláros érmével játszunk, akkor a pörgetés során 40 dollárt teszünk fel. A játék indítása a környíllal történik. Az Automata játék során előre meghatározott számú kör megy le, a játékos aktív részvétele nélkül. A Max. tét az éppen aktuális érmeérték mellett, maximális tétszinten indítja el a tárcsákat.
Ha a Scatter szimbólum megjelenik bárhol a tárcsákon, a dzsinn kiszabadul a lámpából és a következő 10 pörgetésre valamilyen extra funkciót aktivál. Meg kell még említeni a Wildot is, ami minden mást helyettesít, kivéve a Scattert, tehát egyfajta jokerként működik.
Nyerővonal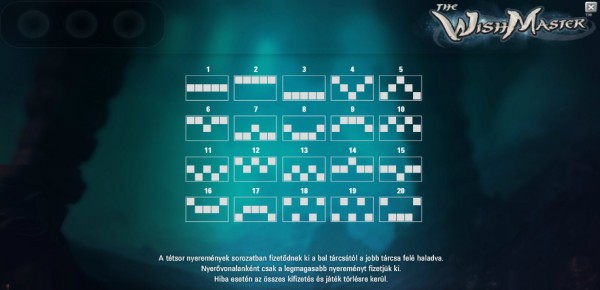 Ingyen játék
Próbáld ki a játékot ingyen, regisztráció, illetve befizetés nélkül. Amennyiben tetszik a játék, akkor kipróbálhatod valós tétért is a cikk végén található kaszinóteremnél/kaszinótermek egyikénél.
---
A következő kaszinóknál elérhető a The Wish Master