The Sopranos
A The Sopranos egy 5 tárcsás és 25 vonalas nyerőgép. Képi világa, hanghatásai és animáció révén a klasszikusnak számító Maffiózók sorozat kerül elénk, a fontosabb szereplőkkel és még a Bada Bing sztriptíz bár is felelevenedik egy bónuszjáték során. Azonos szimbólumokat kell kiforgatni a nyerővonalakra. Ezek között találhatunk speciálisakat, amik ingyenes pörgetéseket adnak!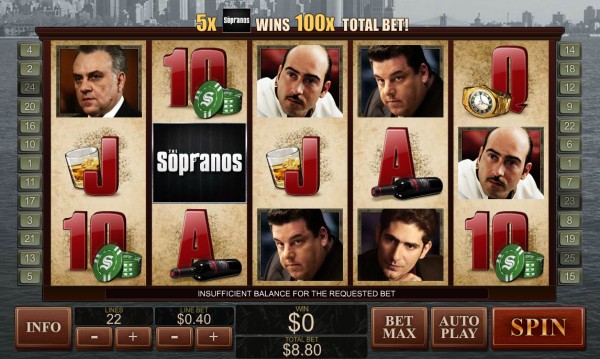 Játék menete
A Lines alatti plusz és mínusz gombokkal kell beállítani azt, hogy hány nyerővonalat aktiválunk a pörgetéshez. Mivel 25 vonalas a játék, ezért 1-től 25-ig módosítható. Mellette a Line bet a sortétre vonatkozik, tehát az egyes vonalakra feltett összeget jelenti. Például 40 centes sortétet állítunk be 22 vonalra, ekkor a teljes tét 8.8 dollár lesz. A Bet Max az összes vonalat kiválasztja és a játékot automatikusan el is indítja. Automata játékmód is elérhető, az Auto Play segítségével, ahol 10, 25, 50 és 99 pörgetésre van lehetőség. Amennyiben nem a Bet Maxot és Auto Play-t választottuk, akkor a Spinnel indítható a tárcsák pörgetése.
Kifizetési táblázat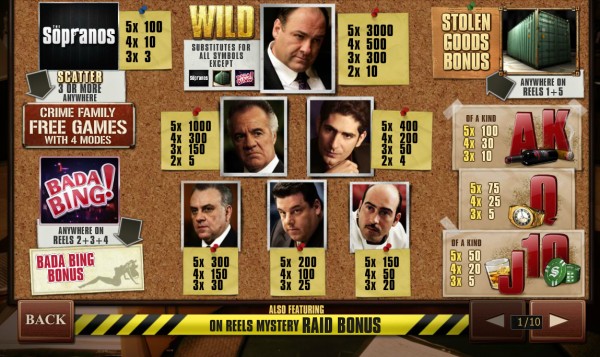 Wild és szórás szimbólum
A wild ennél a játéknál Tony Soprano, aki minden más szimbólumot helyettesít, kivéve a speciálisakat, így létrehozva nyerő kombinációkat. Ha nyerővonalon minimum kettő jelenik meg belőle, akkor a kifizetési táblázat szerinti szorzót adja. Amennyiben az ingyenes körök alatt nyerő kombinációban szerepel, akkor a sor után járó nyeremény duplázódik. A szórás szimbólum a Sopranos felirat, aminek nem kell nyerővonalon megjelennie, tehát bárhol szerepelhet. Hármat, vagy annál többet forgatva belőle, extra szorzót és ingyenes játékokat lehet nyerni.
Bónuszjátékok
Amikor az egyes és ötös egyszerre szerepel a konténer alakzat, akkor egy bónuszjáték indul el. A Bada Bing felirat is egy mellékjátékot indít el, ha a kettes, hármas és négyes tárcsán is szerepel. Ha ez nem lenne elég, további bónuszjátékok várnak ránk, melyekről az Info részen tájékozódhatunk. Ezek mindegyikére igaz, hogy extra nyereményekhez juttatnak minket!
Nyerővonalak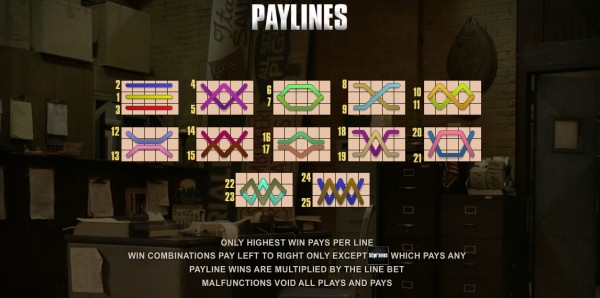 ---