The Alchemist`s Spell
A The Alchemist's Spell egy 5 tárcsás és 243 nyerővonalas játék, ahol kristályok, varázskönyvek és egyéb misztikus alakzatok jelennek meg a tárcsákon. Azonos szimbólumokat kell kipörgetni a nyerővonalakra, melyek között speciálisak is találhatóak, így még izgalmasabbá válik a játék!
Játék menete
Ennél a játéknál nem lehet vonalakat kiválasztani, illetve sortétet közvetlenül beállítani. A tét meghatározásakor a Total Betet kell módosítani, a nyilak segítségével. Lehetőség van automata játékmódra az Auto Spinnel, aminél előre meghatározott számú pörgetés történik, az aktív jelenlétünk nélkül. Amennyiben nem ezt a módot választottuk, akkor a tét megadása után a Spinnel kezdődhet a játék!
Wild és kristály szimbólum
A mindent helyettesítő Wild szimbólumnak három fajtájával találkozhatunk a tárcsákon: bronz, ezüst és arany. Nem szerepelnek az összes tárcsán, a bronz csak a második, az ezüst csak a harmadik, míg az arany csak a negyedik tárcsán jelenik meg. A másik speciális alakzat a kristály, amiből legalább hármat forgatva ingyenes pörgetésekhez lehet jutni.
Kifizetési táblázatok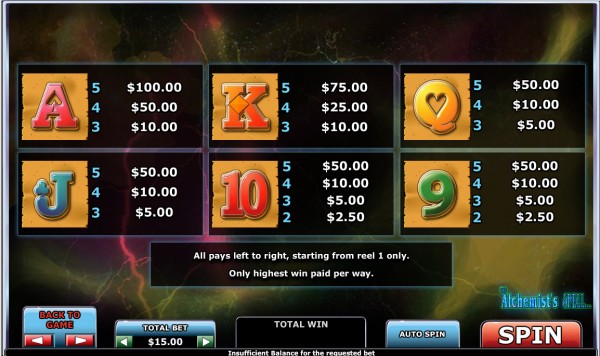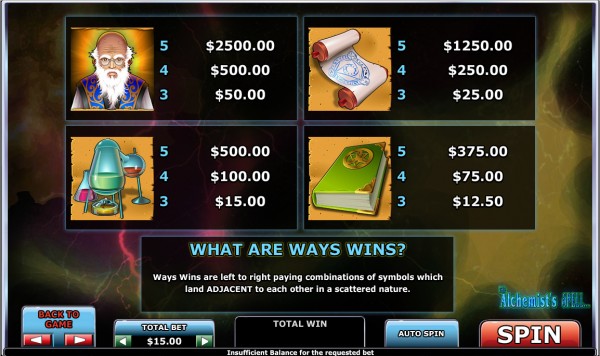 ---
A következő kaszinóknál elérhető a The Alchemist`s Spell