The Legend of Shangri-La: Cluster Pays
Keleti hangulat fogad minket a The Legend of Shangri-La: Cluster Pays online nyerőgépben, mely magyar nyelvű felülettel és súgóval rendelkezik. Nincsenek nyerővonalak, a kifizetés a Cluster Pays mechanika alapján történik, tehát a szimbólum egy csoport része lesz. Vannak egyedi funkciók a játékban, mint például Random Substitutions, Sticky Re-Spins, Nudge Reel vagy épp Free Spins.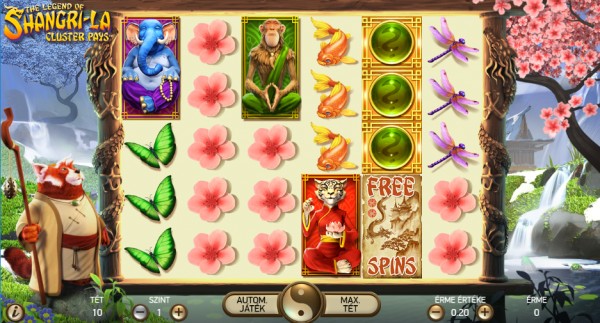 Játék menete
Mivel nincsenek nyerővonalak, így aktíválni sem tudjuk őket. A tét beállítása a tét szintjének és az érme értékének megadásával történik. Összesen tíz szinten játszhatunk, az érme értéke pedig széles skálán mozoghat. A játék indítása a középső jing jang jelre kattintva történik. Van automata mód is, ennél előre meghatározott számú pörgetés megy le.
Nudge Reel
Az alap szimbólumokon felül vannak speciálisak, egyedi funkcióval. Ha 2 Free Spins szimbólum érkezik a tárcsákra, és egy további Free Spins is jön ezektől jobbra a látható tárcsákafelületen kívülre, akkor a harmadikat vissza lehet lökni a tárcsákra, hogy aktiválja a Free Spins funkciót.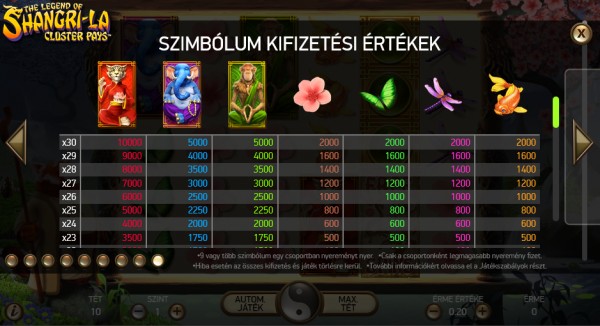 ---
A következő kaszinóknál elérhető a The Legend of Shangri-La: Cluster Pays