Epic Monopoly 2
Az Epic Monopoly 2 egy 100 nyerővonalas játék, melyben két tárcsakészlet is található. A játék célja, hogy azonos szimbólumokból álló kombinációkat pörgessünk ki a nyerővonalakra. Vannak speciális szimbólumok, melyek közül néhány csak a fő tárcsasoron jelenik meg, és egyedi funckiókat indít el!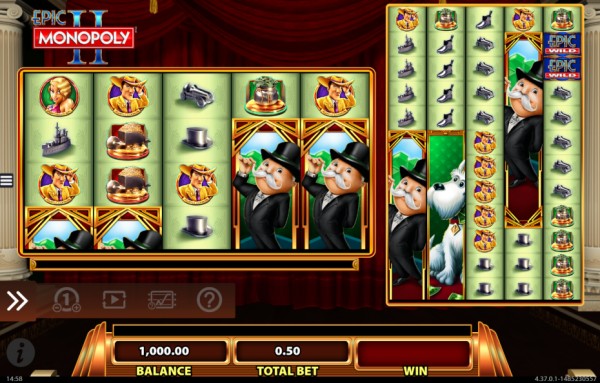 Játék menete
A tét beállításához a jobbra mutató két nyílra kell kattintani, melyre előjön egy menüsor, ahol több mindent is be lehet állítani, illetve meg lehet nézni. Az első ikon, ami egy zseton, a sortétet jelenti, és két vonalra vonatkozik. Ha például 10 centet állítunk be ide, akkor a teljes tét 5 dollár lesz, mert a 100 nyerővonal mindig aktív. A játék indítása a környíllal történik!
Automata mód
A nyílkra kattintva előhozható menüsorban van egy Automata játékmód is. Aki sok játékkört tervez, annak hasznos lehet ez a funkció. Az éppen aktuális tét mellett, az általunk választott ismétlésszám pörög le, ami akár meg is szakítható.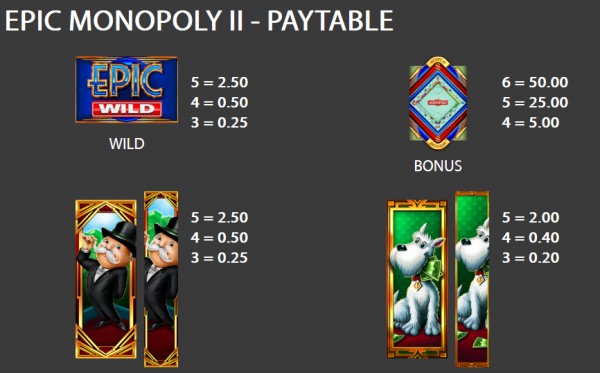 ---
A következő kaszinóknál elérhető a Epic Monopoly 2