Planet of the Apes
A nagysikerű mozifilmnek szentelték ezt a nyerőgépet, mely egy összetett játék, ahol két játéktéren is is lehet nyerni. Ehhez az kell, hogy a rögzített nyerővonalakra azonos szimbólumokat pörgessünk ki. A kifizetési táblázatot színesítik az extra lehetőségek, melyek például ingyenes köröket adhatnak.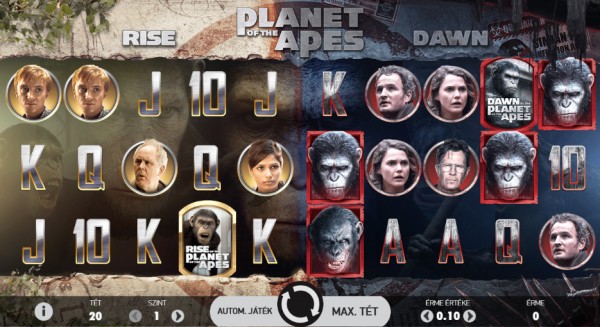 Játék menete
A pörgetés előtt érdemes meghatározni a tétet, tehát azt a pénzösszeget, amit egy forgatás során kockáztatunk. A tét megadása két lépésben történhet, egyrészt a tét szintjének beállításával, másrészt az érme értékének kiválasztásával. Mindezek után nincs más hátra, mint a játék, a középen található környílra kattintva.
Automata játék
A tárcsák pörgését a Max tét is elindítja, mely a tétet maximálisra állítva, rögtön elkezdi a játékkört. Emellett még van automata játék is, aminél előre megadhatjuk hány pörgetés menjen le. Itt van lehetőség speciális beállításokra is, például hogy mekkora nyeremény esetén álljon le az automatikus pörgetés.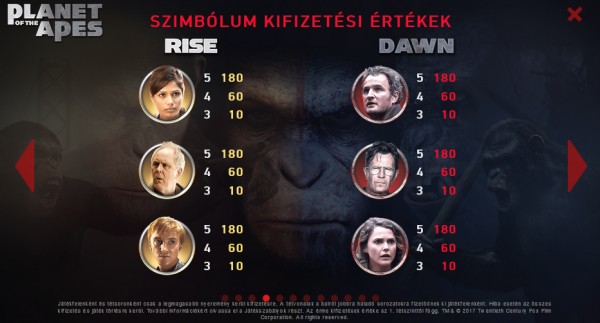 ---
A következő kaszinóknál elérhető a Planet of the Apes