9 Masks of Fire
Egy arany maszk köré épül fel a 9 Masks of Fire játékgép, melyben 20 nyerővonalra kell egyforma szimbólumokat kiforgatnunk. Az összes sornyeremény balról jobbra fizet, és minden alkalommal mind a 20 nyerővonal aktív, tehát ezek száma nem módosítható.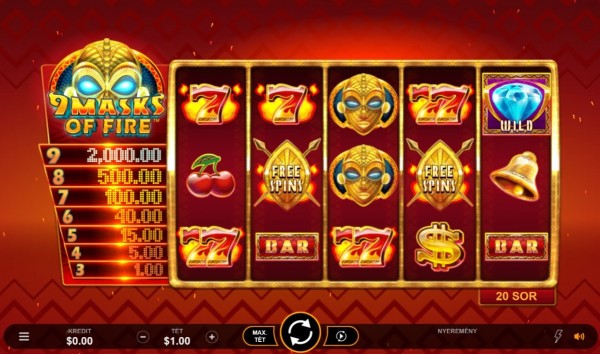 Játék menete
A tét feliratnál tudunk azon az összegen módosítani, amit egyetlen forgatás során kockáztatni kívánunk. A plusz és mínusz gombok segítségével nekünk tetsző tétet adhatunk meg, amit minden egyes pörgetés elején levonnak a számlánkról. A játék a tárcsák alatti környíl segítségével indítható el. Emellett van a max bet, ami a tétet maximálisra állítja, illetve az automatikus játék, aminek a segítségével előre meghatározott számú forgatás megy le anélkül, hogy nekünk minden körben el kellene indítani a játékot.
Ingyen pörgetés szimbólum
Az ingyenes pörgetés szimbólumok a kettes, hármas és négyes tárcsán jelennek meg. Három ingyenes pörgetés szimbólumot ha kapunk egy forgatás végére, akkor ingyenes játékkörökhöz juthatunk. Nem csak ez az egyetlen speciális része a játéknak, van ingyenes pörgetés kerék, vagy épp minden helyettesítő wild is.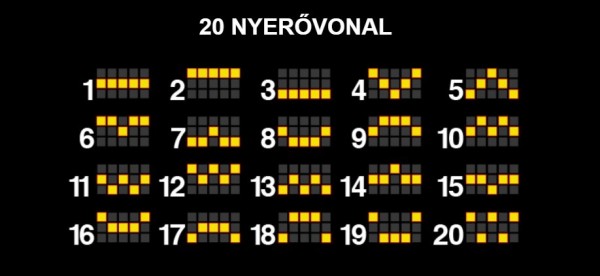 ---