Shields of the Wild
Nevéhez méltóan egyedi és díszes pajzsok jelennek meg szimbólumként a Shields of the Wild nyerőgépben, melynél 5 forgó tárcsán 10 nyerővonalra kell azonos alakzatokat kiforgatni a kifizetés eléréséhez. A hangulathoz illő harci zene és effektek vannak a játékban, melyek egyébként kikapcsolhatóak.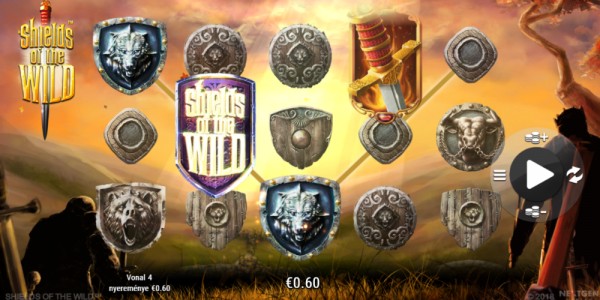 Játék menete
A tétet állíthatjuk a plusz és mínusz jelű zsetonoszlopokkal, illetve a menüre kattintva is. Utóbbi esetén felugrik egy ablak, a tétek listájával, melyekből kedvünkre választhatunk. Az érték centes nagyságrendtől indul. A tárcsák pörgetése a környíllal történik, de ha nem akarunk minden kör elején kattintani a startra, akkor automata módot is kipróbálhatunk, ennél előre meghatározott számú pörgetés megy le.
Shield wall és Marching Stacks
Vannak extra lehetőségek is a játékban, ilyen a shield wall, ami minden kifizetett pörgetés után adhat jutalmat. Ha legalább három scatter szimbólumot forgatunk ki, akkor pedig a marching stacks lesz a jutalom. Ez az extra akkor ér véget, ha mind az öt tárcsán halmozott szimbólumok jelennek meg.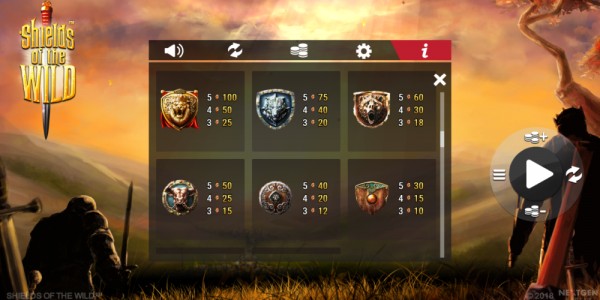 ---
A következő kaszinóknál elérhető a Shields of the Wild