Coins of Egypt
Misztikus egyiptomi hangulat, fáraókkal és mindennel, ami ehhez a stílushoz kapcsolódik, ezt kínálja nekünk a Coins of Egypt játékgép. Összesen 20 nyerővonalra kell egyforma szimbólumokat kiforgatni a kifizetés eléréséhez, dolgunkat pedig speciális szimbólumok segítik, melyek egyedi képességükkel nagyobb lehetőséget biztosítanak a nyereményre.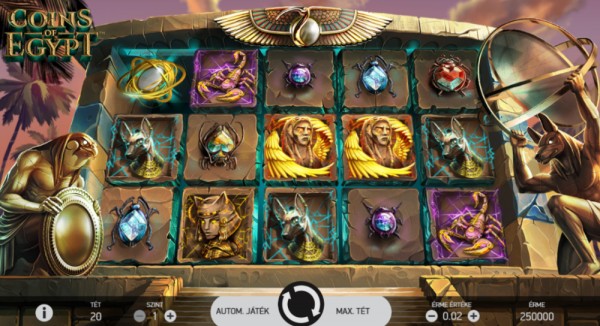 Játék menete
A nyerővonalak száma nem módosítható, mindig 20 aktív sorral játszunk. A tét beállításához két részt kell használni: a tét szintjét és az érme értékét. Összesen 10 szint érhető el, a plusz és mínusz gombok segítségével. Az érme értéke centes nagyságrendtől egészen egy euróig növelhető, szintén a plusz és mínusz használatával. A legalsó vonalban láthatjuk, hogy mennyi tétet állítottunk be, tehát azt, hogy egyetlen pörgetésért cserébe mennyit vonnak le a számlánkról. A játék indítása a tárcsák alatti környíllal történik.
Speciális szimbólumok
A wild szimbólum minden szimbólumot helyettesít a scatter, a láda plomba és a collect szimbólumok kivételével. A wild szimbólum mindig a legmagasabb nyerő kombináció része lesz. A scatter ingyenes pörgetéseket generál, ha legalább hármat kapunk belőle. Az egyes, hármas és ötös tárcsán jelenik meg.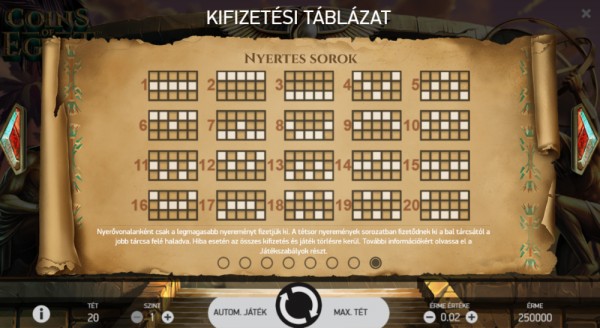 ---
A következő kaszinóknál elérhető a Coins of Egypt