Ignite the Night
Az Ignite the night egy 10 nyerősoros játékgép, melyben igazi karneváli hangulat elevenedik meg előttünk. Dinnye, kókuszdió és táncoslányok, kell ennél több? Ha elmerülsz az éjszakában, szurkolj azért, hogy a pörgetés végére egyforma szimbólumokat kapj, hiszen ekkor érsz el kifizetést! A nyereményhez összefüggőnek kell lenniük a kombinációknak.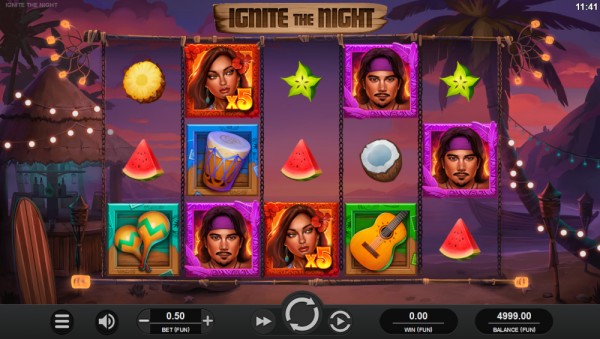 Játék menete
Mielőtt belevágnánk a pörgetésbe, érdemes a tétet meghatározni. A bet részen tudjuk ezt megtenni, a plusz és mínusz gombok segítségével. Centes téttől kezdve, akár az eurós nagyságrendig is el lehet jutni, érdemes jól átgondolni a tét méretezését, hiszen egyetlen pörgetésért cserébe már viszik is a Bet részen meghatározott összeget. A játék indítása a tárcsák alatti környíllal történik!
Automata mód
Van turbó gomb, ami a tárcsák gyorsabb forgását eredményezi. Emellett van automata mód is, a nagy tételben játszóknak, vagy épp a bónuszt forgatóknak lehet igazán hasznos. Ennél a módnál előre meghatározhatunk egy ismétlésszámot, és ez lefut az aktív részvételünk nélkül.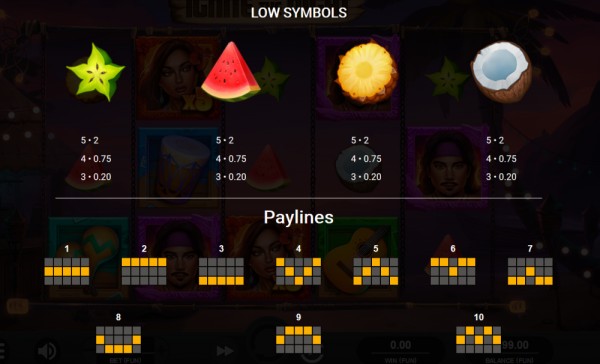 ---
A következő kaszinóknál elérhető a Ignite the Night