9 Pots of Gold
Teljesen magyar nyelvű felület és leírás van a 9 Pots of Gold játékgépben, melynél a nyerővonalak száma 20 összesen, és ezeket meg is nézhetjük az információs részen. Fontos hogy az összes sornyeremény balról jobbra haladva fizet, és minden játékkörben mind a 20 nyerősor megjátszásra kerül. Minden vonalon a legnagyobb nyereményt fizetik csak ki!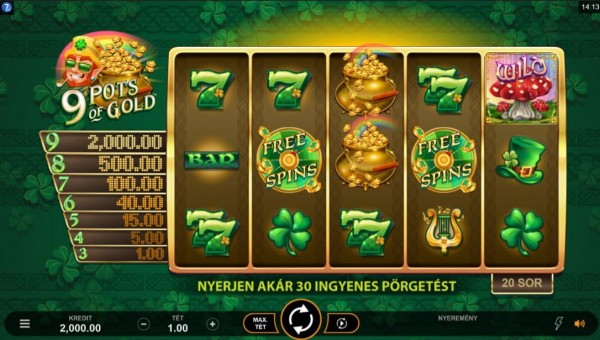 Játék menete
A tét részen határozhatjuk meg a plusz és mínusz gombok segítségével, hogy mennyi pénzt kívánunk kockáztatni a pörgetések során. Egy körben feltehetünk akár centeket, de dönthetünk úgyis, hogy eurós tételben játszunk. Mindig gondoljuk ezt jól át, mert a tárcsák gyorsan forognak, és ezáltal az egyenlegünk is gyorsan csökken. A játék indítása a tárcsák alatti környíllal történik.
Speciális alakzat
A játék során egyforma szimbólumok gyűjtése a célunk, ha ez összejön egy nyerővonalra, akkor kifizetésnek örülhetünk. Vannak speciális szimbólumok is a játékban, ezek egyedi képességük révén kiemelkednek az átlagosok közül. Ilyen a joker, ami a játékban wild néven jelenik meg, és minden mást képes helyettesíteni, kivéve az ingyenes pörgetés és üst szimbólumot.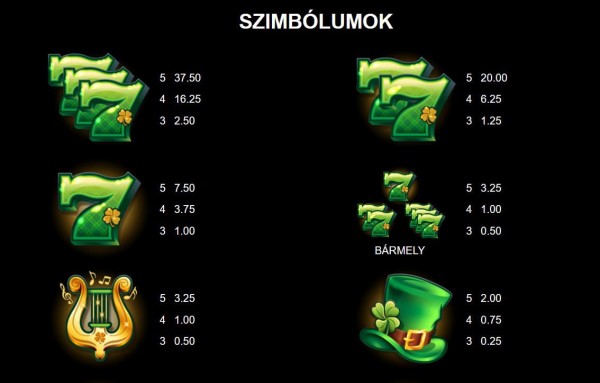 ---
A következő kaszinóknál elérhető a 9 Pots of Gold