Universal Monsters: The Phantom's Curse
Az Operaház Fantomja nyerőgépes változatában az a cél, hogy azonos szimbólumokat forgassunk ki a 40 nyerővonal valamelyikére. A játék képi és hangvilága tükrözi a musicalt, tehát színházban járunk, és a fantom maszkja is feltűnik a tárcsákon. Magyar nyelvű felület és leírás segíti a tájékozódást!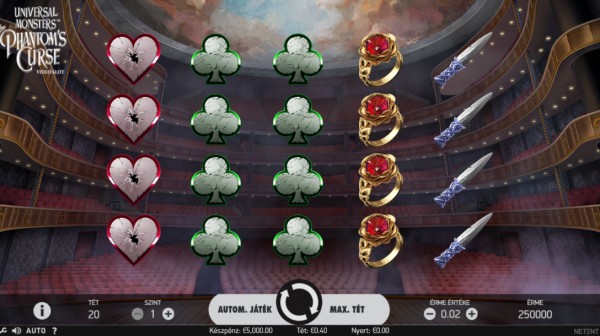 Játék menete
A tét beállítása a tét szintjének és az érme értékének meghatározásával történik, melyeket a tárcsák alatt találhatunk. Összesen 10 szint érhető el, míg az érme értéke széles skálán változtatható. A játék indítása a középen található környíllal történik, de indulásra bírhatjuk a játékot az automata móddal, vagy a max téttel is, mely a nevéből fakadóan maximálisra állítja a tétet.
Pick and Click
A Pick and Click bónusz játék akkor indul, amikor a Stacked Phantom szimbólum teljesen megjelenik az 1. tárcsán és a Stacked Christine szimbólum pedig teljesen feltűnik az 5. tárcsán. A bónuszjáték 2 szakaszból áll, az elsőben 8 rózsa közül lehet választani. Egyes rózsák pénznyereményt adnak. A második szakaszban 3 tükör közül kell egyet választani.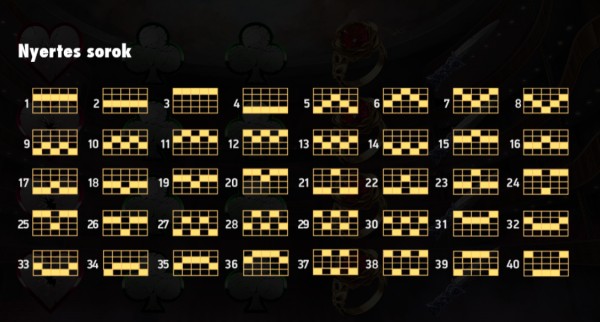 ---
A következő kaszinóknál elérhető a Universal Monsters: The Phantom's Curse