Ghosts of Christmas
A Ghosts of Christmas egy 20 vonalas és 5 tárcsás nyerőgép, ami egy igazán szellemes karácsonyt próbál elénk tárni. Azonos szimbólumok kiforgatása a cél, melyek között találunk kaszást, kopasztott kacsát és mindenféle rémisztő dolgot. A Karácsonyi szellemek bónuszkörrel pénzdíjak, míg a Marley bónusszal ingyenes pörgetések nyerhetőek!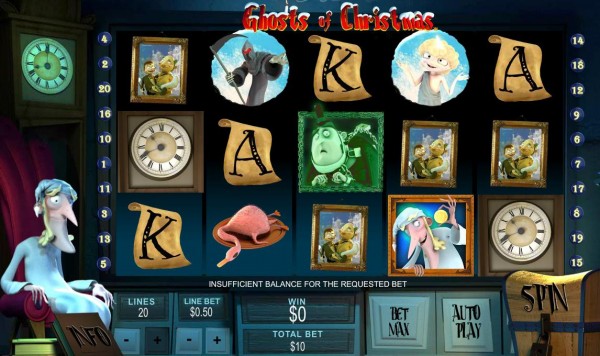 Játék menete
A Lines alatti plusz/mínusz gombokkal állítjuk be a nyerővonalak számát, mely tehát 1-től 20-ig változtatható. Mellette a Line Bettel az egyes nyerővonalakra feltett pénzt határozhatjuk meg. A Bet Maxra kattintva maximális vonallal elindul a játék és fontos megjegyezni, hogy automatikusan, kérdés nélkül! Amennyiben megvagyunk a tét beállításával és nem használtuk a Bet Maxot, akkor a Spinre klikkelve indulhat a pörgetés. Az átlagos szimbólumokból három egyformára van szükség, míg a speciálisakból már kettő is elegendő az extra nyereményekhez.
Kifizetési táblázat
Wild és szórás szimbólum
A wild ennél a játéknál a pizsamás, érmét tartó férfi, ami minden más szimbólumot helyettesít, kivéve a szórást és bónuszt, így létrehozva nyerő kombinációkat. Nem csak jokerként működik, hiszen ha nyerővonalon kettő vagy több jelenik meg belőle, akkor a kifizetési táblázatban szereplő szorzót kapjuk utána. A szórást a láncot viselő Marley jelképezi. Ebből kettőt kiforgatva a feltett tét visszajár. Három, vagy többnél pedig a teljes tétre vonatkozó szorzó mellett, ingyenes pörgetéseket lehet szerezni. Nem kell nyerővonalon lenniük.
Bónusz szimbólum
A római számokkal megjelenő falióra egy bónusz szimbólum. Amennyiben három, vagy több ilyen jelenik meg egymás után, egy nyerővonalon, akkor a Karácsonyi szellemek bónuszkör aktiválódik. Három témája van, véletlenszerűen dől el, hogy melyiket adja a gép. Csak kinézetre mások, a nyereményeket tekintve egyformák. Íróasztalok, ajándékok vagy épp sírkövek közül kell választani.
Nyerővonalak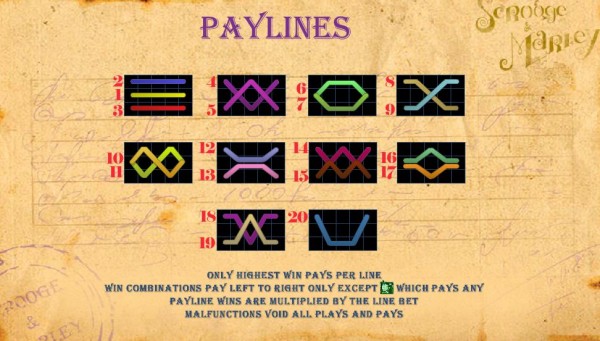 ---
A következő kaszinóknál elérhető a Ghosts of Christmas