Pixies of the Forest
A Pixies of the Forest egy varázslatos világba visz el minket a grafikája és hanghatásai révén. Szimbólumain hercegnők jelennek meg, és egy mesebeli erdő. A körítés mellett azért ez is egy megszokott online nyerőgép, ahol azonos szimbólumok kipörgetése a cél, a nyerővonalakra. Ennek balról jobbra haladva kell megtörténnie, hogy a nyereménytáblázat szerint alakuljon a kifizetés.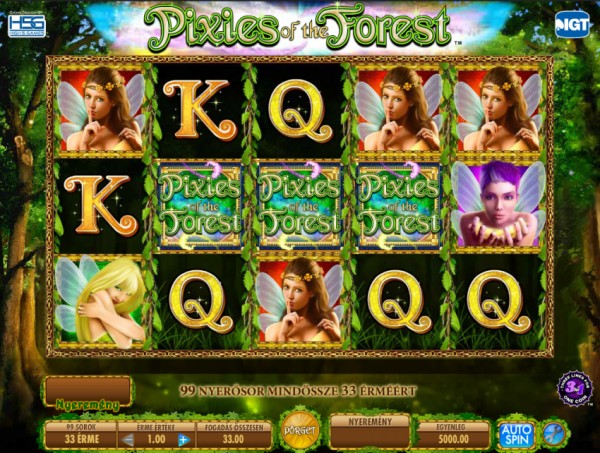 Játék menete
A 99 nyerősor nem változtatható, amikre összesen 33 érmét teszünk fel egy pörgetés alatt. Az érme értékét viszont nekünk kell megadni, a plusz és mínusz gombok segítségével. Például 5 dolláros érme értéknél a teljes tét 165 dollár lesz. Ezt érdemes szem előtt tartani, mert ezt az összeget vonják le a számlánkról és nem csak az érme értékénél beállított összeget. Van lehetőség automata módra is, amikor a beavatkozásunk nélkül mennek le az előre meghatározott számú pörgetések.
Extra szimbólumok
A Wild minden mást helyettesít, kivéve a Bonus feliratot. Ez azt jelenti, hogy nyerő alakzatot hozhat létre más szimbólumokkal kiegészülve. Csak a kettes, hármas és négyes tárcsán jelenik meg. Emellett van még a Bonus szimbólum, ami ingyenes pörgetéseket generálhat.
Nyerővonalak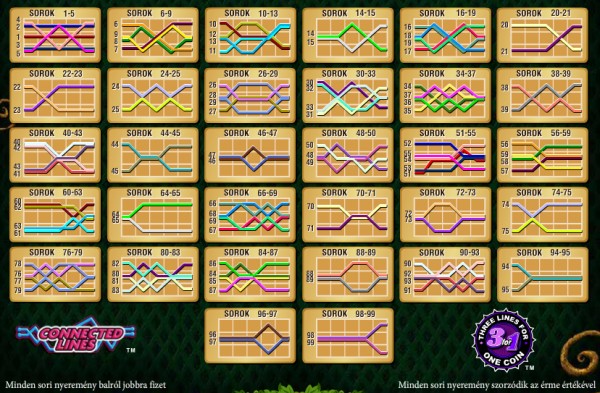 ---